Discover more from S/FJ
photographs enthusiasms essays speculation interviews conjecture
Over 13,000 subscribers
music in 2019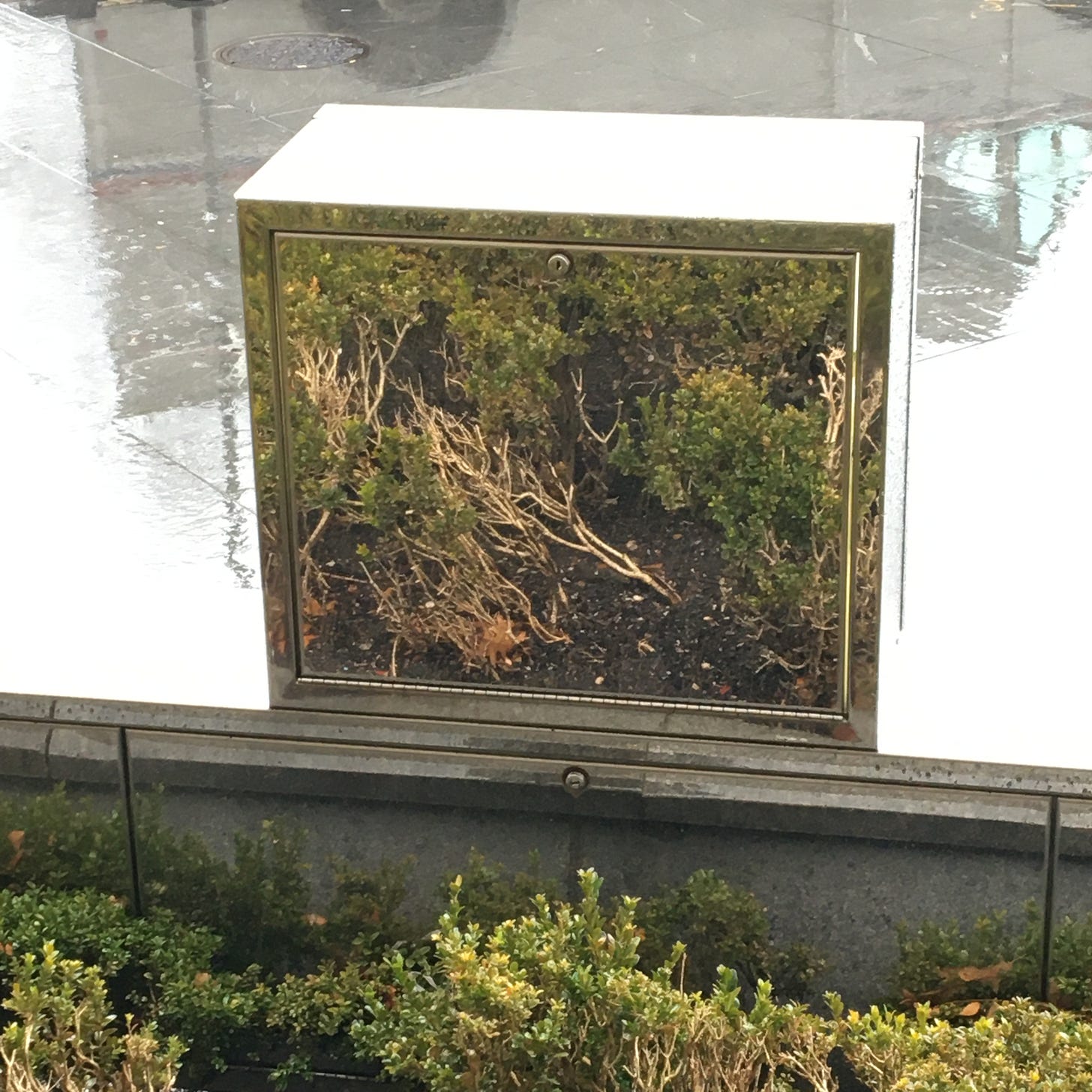 This is an overview of music criticism I wrote for Bookforum, a list of ten pieces built to accompany the Penman column.
This is a review of Unsound 2019 I wrote for Artforum, and it mentions a high point of my 2019: seeing Księżyc play live at St. Peter's Chelsea.
---
Are lists a way of keeping track or a neurotic way of displacing events? Are lists just poetic groups? This great collection of record label logos is definitely a grouping and it seems like poetry. I could look at it for days. I appreciate that it isn't full of links. It's a long scroll of logos, like a towel.
---

This is the 2019 playlist, done and dusted. I spent all year tweaking it, so hopefully it coheres as much as any list of 150 songs can.
I prefer music that works as evidence of life and music with music in it. If you want to know about some neurasthenic flounder with a Raya account and a delay pedal, I can't help.
You will hear three Rosalía songs and one "song" that's an hour long, which is a Pip album: see below.
---
Rosalía. Nobody even rented a room in Rosalía's zip code this year. Everything she did was golden soul fire syrup, especially the Webster Hall show and the "A Palé" video. Being able to follow Rosalía and her dancers, Las Rosas, on Instagram, opened up the El Mal Querer tour in a way that didn't feel minor. Maybe social media modalities are cheesy and compromised and algorithmically tweaked to produce fear, but, this year, something came of them.
Babytron, Bin Reaper + ShittyBoyz, 3-Peat. Is it hard to be an MC in Detroit and not think of Eminem? I don't know if Em even matters to Babytron, but it is the case that his style is so unlike Marshall's that you could believe that Detroit was somewhere else now or simply that enough time had passed that Marshall Mathers feels to Babytron the same way Chuck Berry felt to me in 1984. Babytron doesn't really pay any attention to the beat, not with his mouth, and his beats are rip-offs of Eighties freestyle records I bought before anybody called Shannon freestyle. Jonah tells me this is what Blueface does, the non-flow flow, but I don't care about Blueface. When rap isn't about words or rhythm but bottling up the life force of weird kids: the Babytron initiative.
Jamie Saft, You Don't Know The Life. Organ trio! It slides right off the plate. Wide-eyed caroms and rubbed spice rubber.
---
Charles Curtis, Dafne Vicente-Sandoval, Rhodri Davies, and Robin Hayward performing Éliane Radigue's Occam Ocean at Pace Gallery on December 13, 2019. Here's a piece on Radigue I wrote for Artforum in January. A few weeks after it was published, I went to see Radigue in Paris.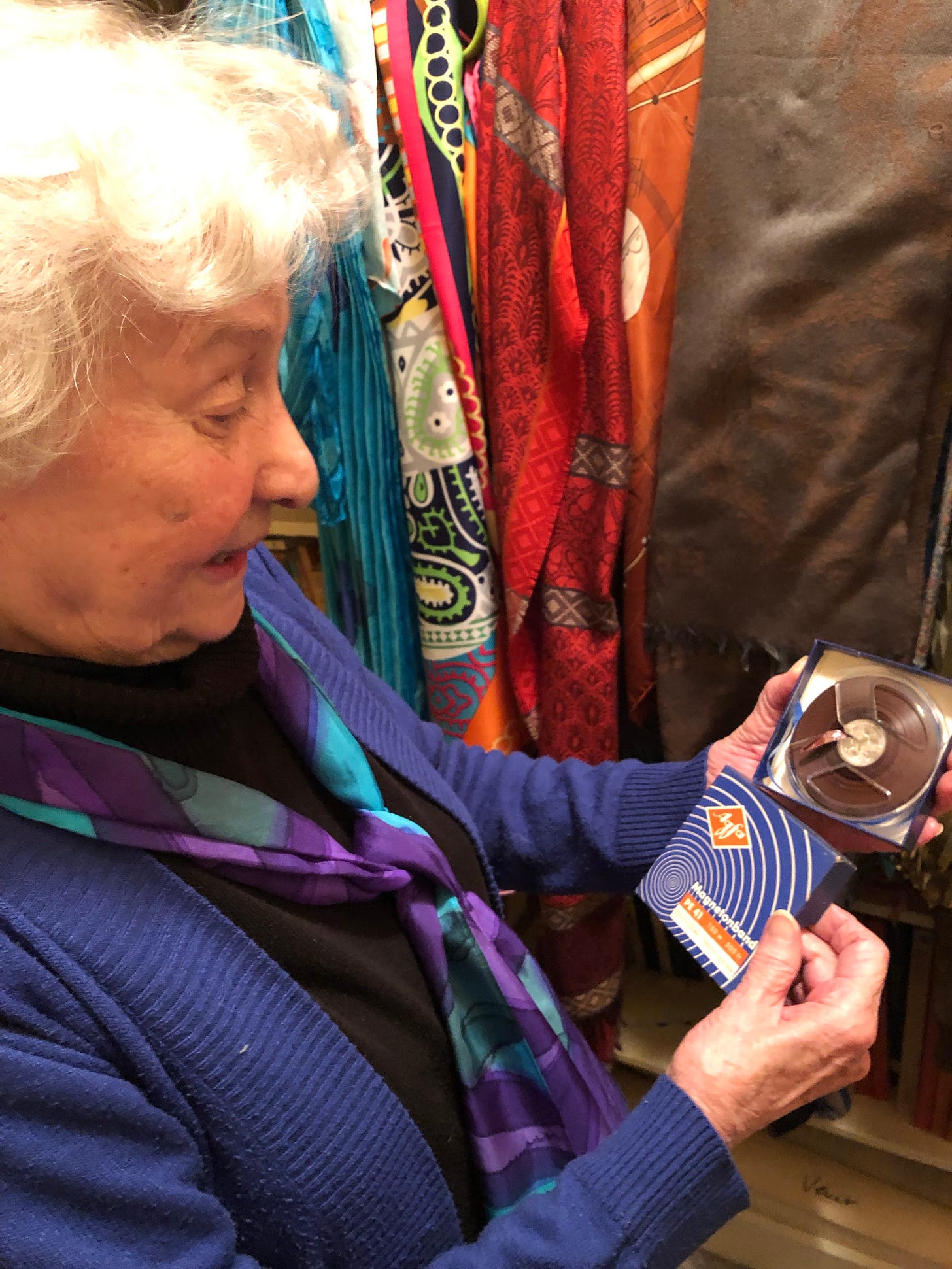 This is Radigue holding what she claims was the first tape piece she ever made, at some point in the 1950s. All of her tapes—all of them—are shelved in the foyer of her apartment behind a big row of scarves.
Occam's razor is the formulation that tells us the simplest solution is the best, and though this has a specific implication for Radigue's Occam Ocean pieces, the original idea gives us a working guide for her music. Sitting with Radigue in Paris, it became clear to me that her work is the output of listening to tones, and in some ways, nothing more. What she listened to, for years, was "Larsen feedback," the result of putting a microphone up to a speaker and generating a signal loop (that screeching sound most front of house engineers are working to prevent). That sound is not pitched in any traditional sense, nor is it easily split into discrete parts, depending on the original signal that set the loop off.
After years of manipulating microphone feedback, Radigue switched to modular synthesis, though more or less for the purposes of recreating the properties of microphone feedback. All of this was recorded to pieces of magnetic tape that then became the compositions themselves, often as several of them ran in tandem. In the twenty-first century, Radigue returned to traditional orchestral instruments, but without any major change in goals. She has been making the same sound for almost sixty years. That sound, the stuff of Radigue material, is a tone that happens for a long time, cross-faded slowly with other tones.
There is neither defined meter nor composed melody in Radigue's music, though there is the rhythm of beating overtones and amplitude as sound waves nudge each other. Immersed, you stop waiting for "events" or "motifs" or even change itself. You simply live in the ocean of sound.
Vicente-Sandoval began the concert with her bassoon. She is a small and tightly coiled person, and works with phenomenal technique. I have never played a woodwind and have no idea how hard it is to do these things, but the incredibly soft and squeaky tones she opened the show with seemed like lines of mineral being drawn from rock, painfully won rewards. She adjusted the size of the room as each tone length (value?) was presented, usually one slightly louder than the last. Charles Curtis did the same with the cello and Rhodri Davies followed suit with a harp, not plucked, but bowed, sometimes with two bows. Robin Hayward surprised me the most by forcing wild sparkles and hums out of his tuba, none of it sounding like the product of a wind instrument.
The Occam Ocean pieces are developed by Radigue with each player. There is no score, so the composition (if that is the word) lives and dies with the performer. There are no program notes to indicate what kind of conversation Radigue has had with each player. The 2017 recordings of Occam Ocean I is fantastic and will give you an idea of what the show was like. That said, I've not seen many shows that worked with dynamics and silence in quite this way. When, after a series of duos, all four instruments finally sounded at once the impact was phenomenal, though it wasn't all that loud. Radigue genuinely hates loud music, especially amplified electronic music.
---
Vilod, The Clouds Know. In a few days, you will find out why Re: ECM, by Ricardo Villalobos and Max Loderbauer, is one of my records of the teens. This new Vilod album lives in similar territory: jazz textures (boingly cymbals, papery drum heads), glitch dynamics (steady but unsteady), and Basic Channel sonics (soft muffles and hot kernels). The sound of plants growing in a dryer, of therapy inside a salt shaker wired to a penny battery, twenty mini Oculus models set ablaze. Modest but wild. Baby butt jazz under 10X goggles.
Bill Orcutt, Odds Against Tomorrow. His Tele playing is related to both John Fahey and D. Boon and raga and free improv. I don't know how much is improvised or written. It all pulses and crackles and absolutely earns the right to be one guitar (or two) alone.
Underworld, DRIFT Series 1. These two somehow aren't getting weak, and they might be getting better. This series started a little more than a year ago, and allegedly involved the writing and releasing of a song every week. (This is the band's brief explanation of the process.) There were apparently plans to chop it all down and make a traditional album, and those were scrapped in favor of releasing the whole bundle of biscuits as a 7 CD box. The last disc is three long collaborations with The Necks. Even short-time readers will know I think that trio walks on water. This is one of the least intimidating 7 CD releases you will encounter. Karl Hyde and Rick Smith make a kind of electronic music that feels simple and febrile, and not particularly wonky, even when improvised. Or is this a pop record?
Pip, Possible Worlds. An hour-long live performance, with no overdubs. Once you listen to this, that will seem improbable. Fredrik Rasten plays acoustic and electric guitars, some of them fretless, and all of them tuned to just intonation ratios. Torstein Larsen plays trumpet and electronics, and uses the same tuning ratios. Possible Worlds is wide open and perfectly layered. This is a quartet that just happens to be two people.
---
NTS radio all day long. Especially Suncut and Time Is Away.
Tobe Nwigwe, who is frozen.
Marcus Fischer, On Falling. Fischer works with pedals and guitars and has a sound that feels less layered than simultaneous, like tree ornaments rustling all at once.
Kukangendai, Palm. Guitar, bass, and drums. Selvage, deckle, and bleed. Four, two, and nine. Pattern poppers—you can't count them like they count you.
Jim O'Rourke, to magnetize money and catch a roving eye. What's with all these long records! Sorry. This is four pieces, each around an hour. There's enough written about how brilliant and peerless O'Rourke is, and it is all correct. I would like to salute him here as the master of true spookiness. What's going on in Japan?
75 Dollar Bill, I Was Real. Rick Brown has a box and Che Chen has a guitar and they make real worlds from there. I had no idea I was getting into utopian territory this year but this whole spread of albums represents barely anything normative.
Philip Thomas, Morton Feldman Piano. Duration and space reiterate themselves and claim their attendant variables in new slices as time unspools. From the promontory of this music, I see grains of sand catching cabs. This may convert anybody who has never heard Feldman. Thomas has been deeply engaged with Feldman for many years, and it shows.
K. Mulhern, Silt. A sinkhole that opens and drops you into the last wet forest on the last sandy island.
Megan Thee Stallion, who is molten.
Forest Drive West, Blue 05. Electro seems entirely new and absolute organic and alive here. This is just two songs but holy hell it gets me there and back. Also some of the best engineering I've heard recently in the field of electromagnetic computerbot tunes.
Sunn O))) live at Brooklyn Steel in April. I am still living in this glorious slushie. Actual reorganization of the felt and heard.
Księżyc live at St. Peter's Chelsea in November. The elusive Polish band plays in America and it's a goddamn heartbreaker, delicate and severe.
---