Discover more from S/FJ
photographs enthusiasms essays speculation interviews conjecture
Over 13,000 subscribers
Abby Klein + The Velvet Underground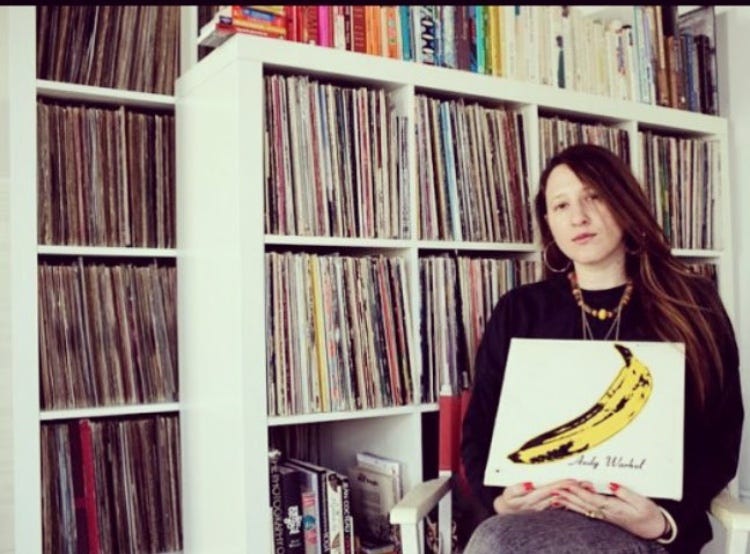 Did that sealed Velvet Underground album come from within the blast radius? Entertain this enticing but unlikely scenario with us as we listen to a friend of the house, DJ Abby Klein, the macademia of academia:
"In 2008, following a flood that damaged some of my records, I was inspired by some collectors and DJs around me. People were shedding unwanted vinyl weight. Did I really need two copies of a Ludacris 12-inch from 2000? Probably not.
I started to unload and I didn't do it alone—key friends and acquaintances were part of the shedding process. Because I wasn't a seller, I sought out their advice, and they connected me with boutique dealers for the more valuable items. One of those was a sealed copy of the first Velvet Underground record. I had a friend who was in touch with an eccentric high-end dealer on eBay and I was able to host it with him for a better outcome then I would've gotten on my own. It would have been foolish to open the album or mess around with that banana sticker, and I never did.
It was a good decision. My friend eventually told me that a mystery Japanese buyer purchased the record. The auction concluded at $2700.
The album had a tiny hole punched into it. (See above.) I wonder if the one pictured in your blog post is my same exact record, coming back onto eBay in a new and different era?"
---