Discover more from S/FJ
photographs enthusiasms essays speculation interviews conjecture
Over 13,000 subscribers
Friday, October 30 2020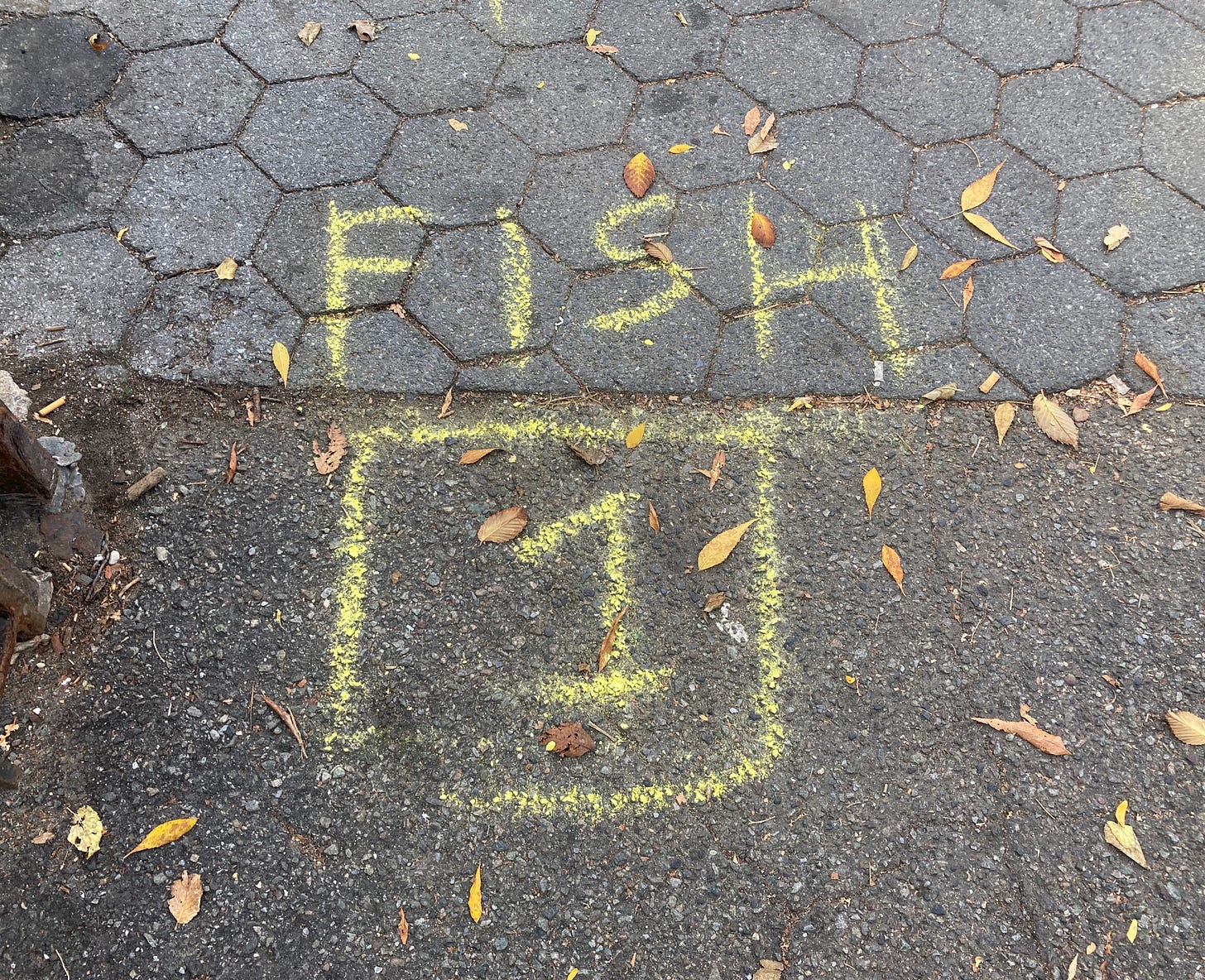 ---
I'm guessing you don't want something "squished" but Jon Hassell squishes music and I love that he does. (Read along to this Hassell playlist.) He's been putting his trumpet through effect units since the mid-Seventies and he's developed a tone that starts with the trumpet mute and then wanders away. The tone is cramped and damped, small and heavily colored. Hassell uses electronic filters that affect the variables of phase and pitch, giving voice to a drunken, aspirate choir of horns from nowhere.
His musical settings are steady but never loud, moving at the pace of rain, environments first and trumpet music second. Some of his style comes from Terry Riley's pieces and quiet Miles Davis tracks, but only a bit. His work is part of a larger construct he calls the "fourth world," which sounds daft but somehow isn't. He talked about this world in an interview with the Guardian this year: "Just be more aware of the rest of the world. . . . I'm very proud of the fact that it has sort of caught on with young musicians: the degree of awareness these days, because of all the technological possibilities. The fourth world is something that says: I'm aware of that, I'm aware of this, and here's what I'm coming up with."
Fourth World Vol. 1— Possible Musics was the album Hassell made with Brian Eno in 1980. Click on that link for sure—it's not on Spotify and it's likely his best work. The next year, Hassell expanded on that sound with Eno and David Byrne for My Life In The Bush of Ghosts. The vibe was not solid and Hassell left. His sound stayed, though. Oof. You can imagine that this very well-known album was a thorn in Hassell's side. In 2007, Eno openly acknowledged the debt in a short Guardian piece. That text (below) is included with this year's reissue of Hassell's 1978 album, Vernal Equinox.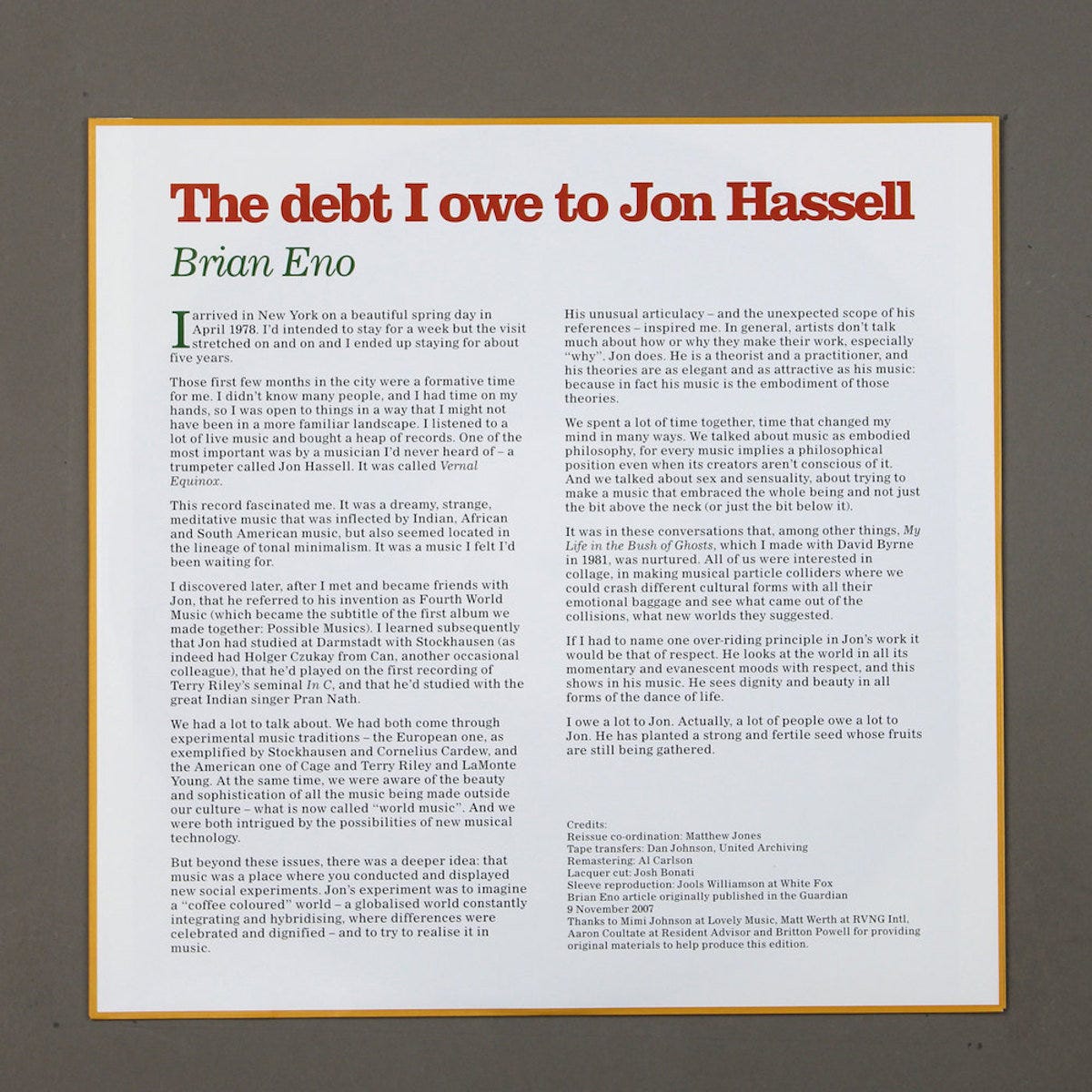 Hassell has been diplomatic about Eno's big rip-off for some years now, and the lack of pettiness is inspiring. Hassell's last two albums, Seeing Through Sound and Listening To Pictures, are concentrated and elevated, but then, so was Eno's unexpectedly great Music For Installations. Maybe they're still on adjacent wavelengths.
Once again, here is the playlist.
---
This is utterly mad and perfect: a bunch of kids redo Seinfeld as Whinefeld. It's fifteen, twenty years old? It's so much better than you think it will be. Thank you, Reddit.
---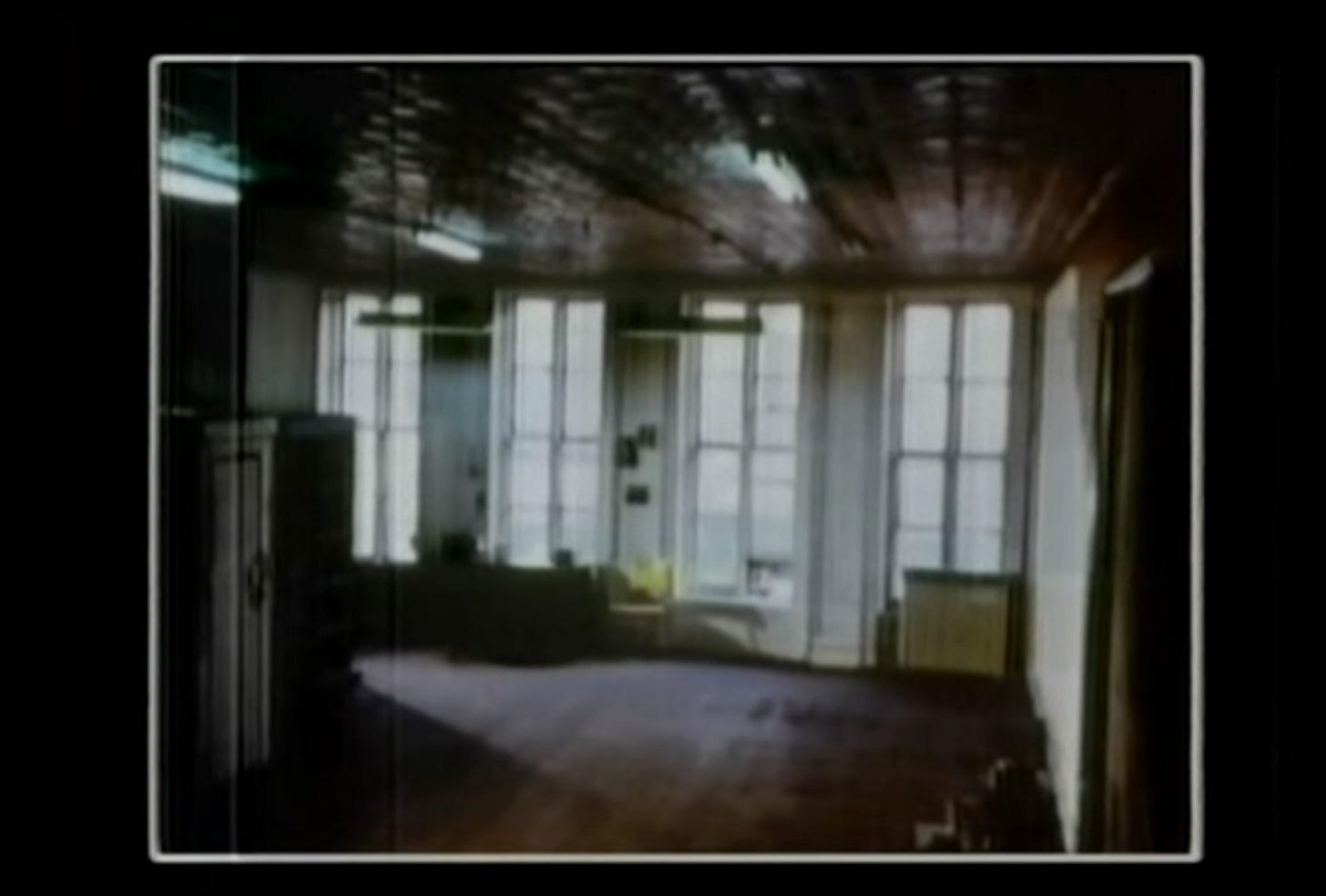 There are not many books as cool as Michael Snows's Cover to Cover.
Check out this Channel 4 documentary on Snow from 1983. He discusses his work in a calm way and in concrete terms. A chunk of these forty-five minutes are spent on Snow's film Wavelength, which more or less changed my life when I saw it in 1985.
---
Flora Yin-Wong's Holy Palm is coming out today and it's magical. Listen to "Tirta Empul"—it's such a good blend of field recordings and mix placement and pacing and timbre pinning.
---
Chris Abrahams of The Necks played a live quarantine date a few months ago. This will restore you: piano, and nothing else, rising towards the ceiling.
---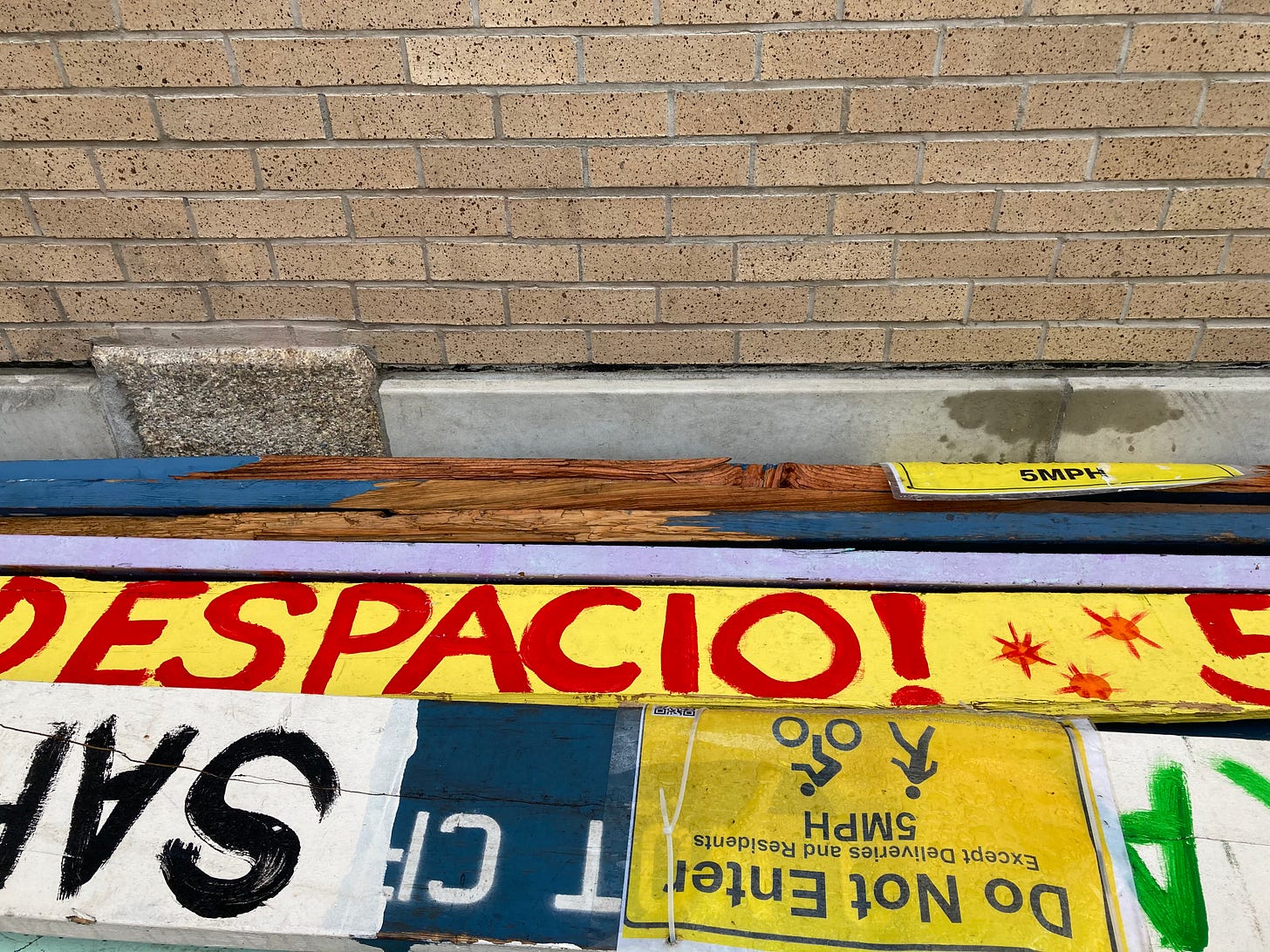 Visit this single serving site, Astronaut, and you will zoom around the world using nothing but YouTube videos. Per the splash page, these videos "were uploaded in the last week and have titles like DSC 1234 and IMG 4321. They have almost zero previous views. They are unnamed, unedited, and unseen (by anyone but you)." It moves quickly but gains in both intimacy and intensity if you stick with it.
---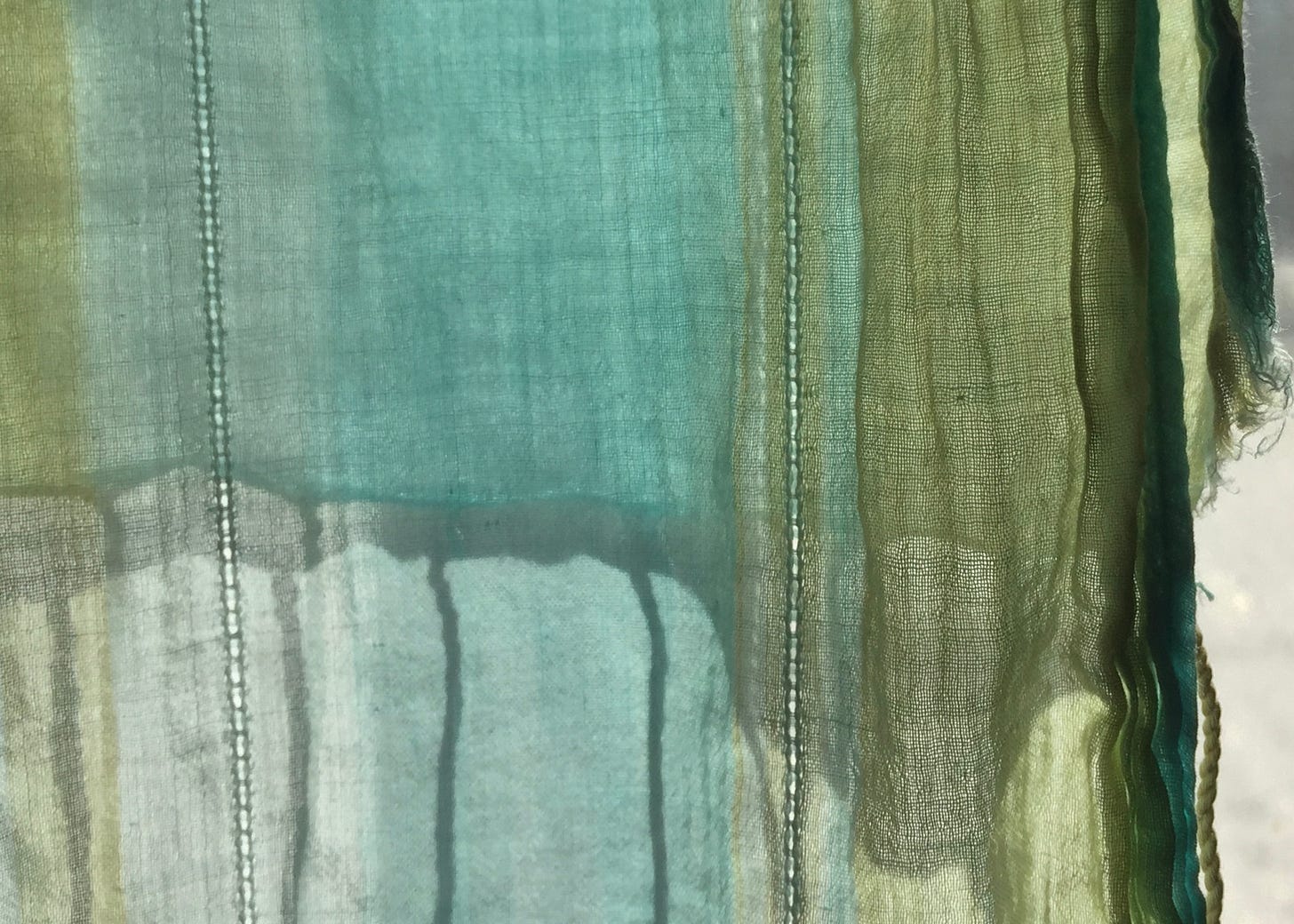 ---
Kamal Swaroop's Om Dar-B-Dar (1988) is one of the most effervescently weird movies I've ever seen. It's sort of a story of a boy who leaves home, and it's also about a voice-over at war with a collage. There are frogs.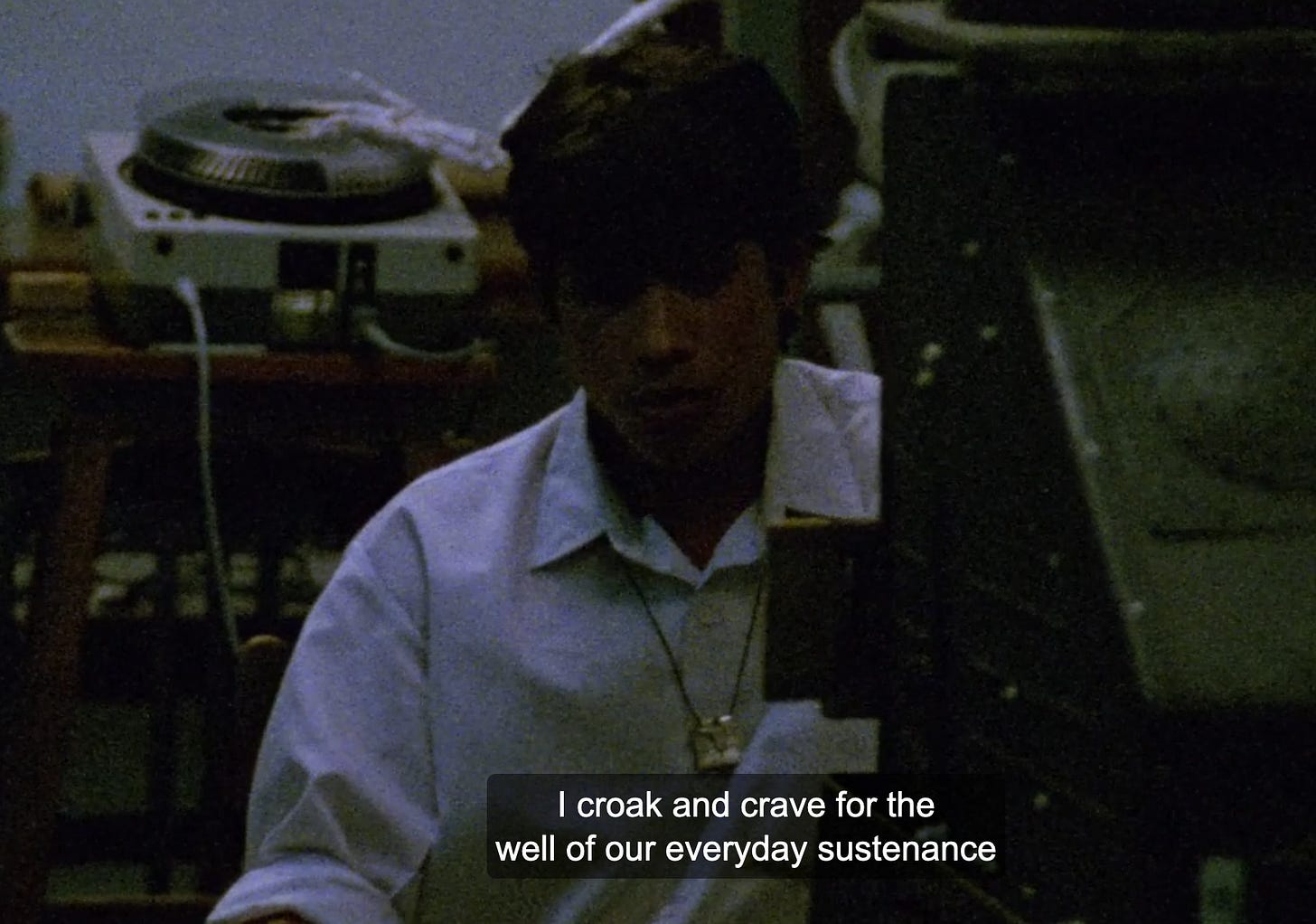 ---
This footage of Horse Lords playing "live" for Tusk Festival 2020 rules. They love numbers and they rub them up against each other. It all crackles and curls in on itself. Eventually, a sax player joins the guitar buddies.
---
This Pye Corner Audio live set from October of 2019 perfectly summons what you think you wanted a "mellow rave" to feel like. Nostalgia is sometimes a lazy word for just improving on an older thing.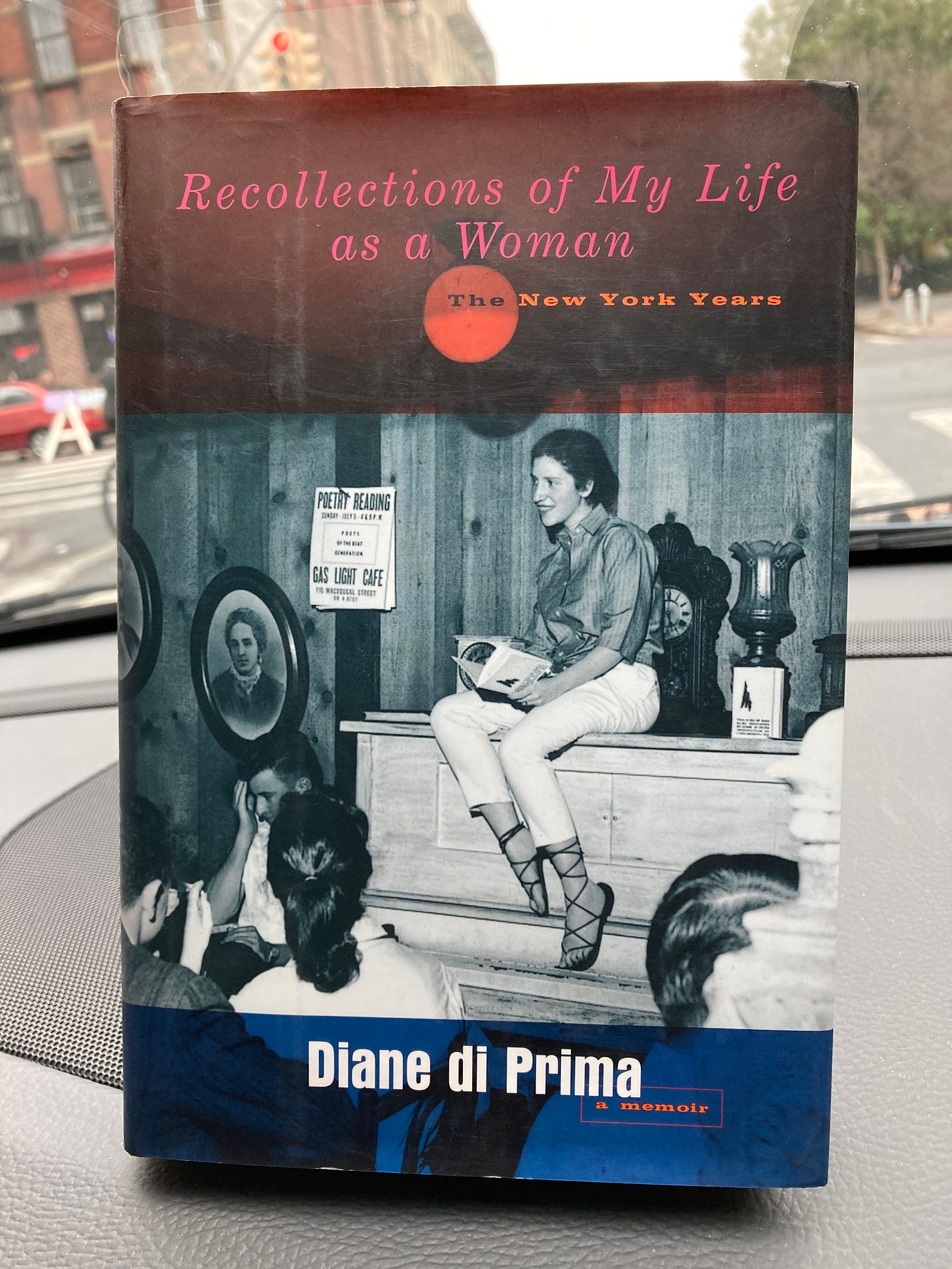 ---
In June, a person named Naomi Elizabeth got her hands on a sword and the keys to an abandoned office building in LA. I'm guessing on the keys. Maybe she lives there. She tells us in the course of this video that God has sent her to rock us, which is neither here nor there. Her dancing in a closet full of file folders was pretty much my summer.
---
Let's end on the obsessive. You can read about the best pressings of The Stooges' Fun House, a topic neither of us thought we cared about, or you can read Jonathan Pfeffer on the cranked snare sound of the Nineties, easily one of the most thoroughly reported music pieces I've seen in a minute.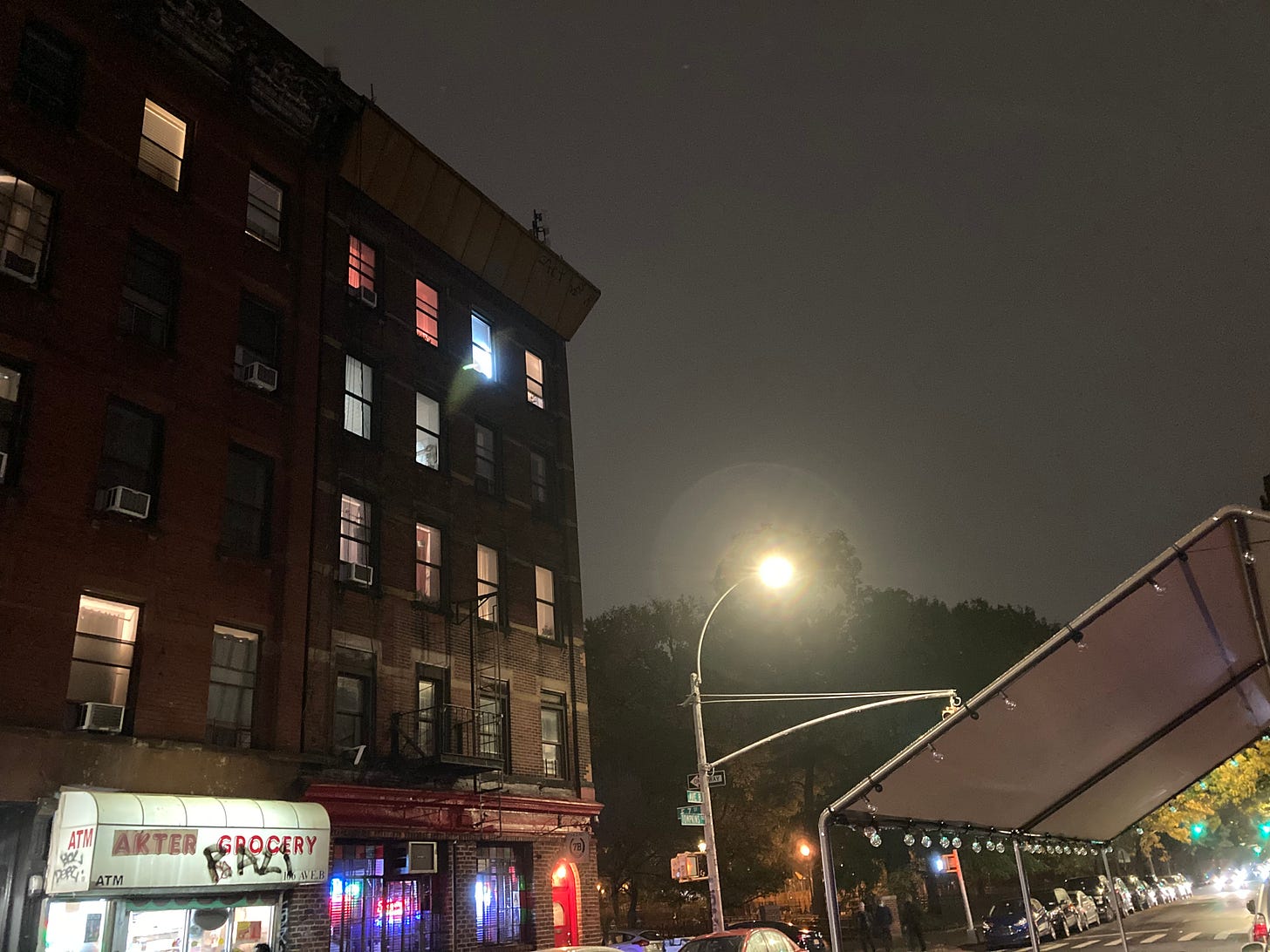 For those who are new, here's how the money works. It's a bit like the Bandcamp "name your price" model. If you're not sure what you think, hang around for as long as you like and pay whenever it feels right. Or bounce! Those who have paid absolutely changed our year. Thank you.
---
---