Discover more from S/FJ
photographs enthusiasms essays speculation interviews conjecture
Over 13,000 subscribers
Ogmios + cars + London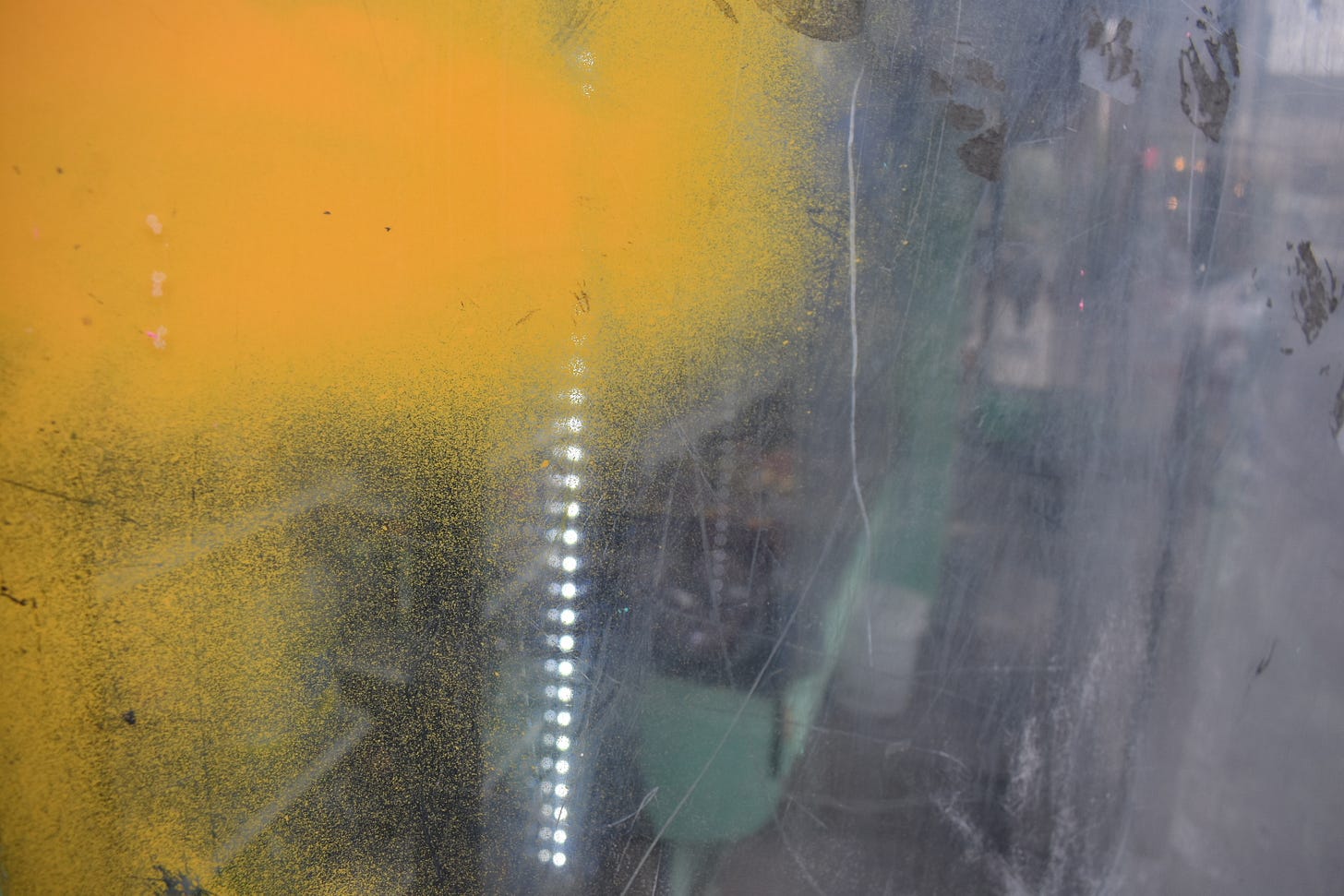 What is the opposite of road rage? Zen motoring, it turns out. A London rapper named Ogmios is putting up big numbers in lockdown with his ASMR narration of quiet drives through London. As dashcam footage rolls, he expresses genuine care for scooter boys and celebrates the loony interventions of Purim. After watching the second episode (my favorite) of The Ogmios School of Zen Motoring three times, I wrote down, "Bob Ross, Marcel the Cockney Shell, Richard Scarry, John Berger, Dick Cavett." His gentleness and slight rhotacism makes him a perfect candidate for your angel shoulder. I have come to rely on his forgiving presence.
Do we just want someone to be this considerate in our lives? Or is it that he's moving around in a car, outside? Is this freedom porn?
The clip below is from 2014. It's episode 1 of The Ogmios Show, a concern which only made it to a second episode in 2015. Ogmios does not rush! In Episode 1, our host talks to vegan rappers and makes tea and does a bit of foraging. He also raps in space along with some cartoons. A puppet named Nature Bob appears in both clips. Lotta Dilla and MF Doom in the streams of Og.
---
---
I tried to get him on Zoom, but he was out and about. Ogmios graciously answered the following questions by email.
1. What is your accent? I think North London, but I might be wrong.
Yeah, it is North London. I was born and raised in Hackney and currently reside in Tottenham. 
2. When did everything start for you? It seems like rap came first.
Rapping and beat making were definitely the early creative outlets for me. Did a bit of prank calling too in my teenage years.
3. Are you still making music? Are you still battling?
I'm still making music. Last few years I have put out an album called Glyphs under the name Kotadama with rapper/producer Tang the Pilgrim and another album called The Forge with my hip hop collective Inner Peace Records. I am working on a solo album produced by an Inner Peace Records comrade, Palmer Eldritch, which will hopefully be ready this year. A couple of other collaborative projects are in the works with I.P.R, including a mixtape we've made in lockdown.
I haven't battled for a few years but I hope to return at some point to the pit to see if I've still got it. 
4. Where do these videos fit into lockdown? Is nobody in London wearing a mask?
The first two episodes feature footage I collected in February and March, just before the official lockdown here. 
5. Are you a cab driver?
No, but that would be a great way to work and collect footage at the same time. I'm not sure that all my customers would appreciate my leisurely pace, though. 
I am actually a part-time teacher at a school for teenagers who have been excluded from mainstream schools.
6. How do you assemble the videos? What gear do you use? Do you do the voiceovers after?
I just use one dash cam and collect any noteworthy clips and edit them together with the ambient sounds and music. I record the voiceovers last thing.
7. You're such a gentle presence in this videos, and in the older ones. (I'm thinking of the one where you gather dandelions for salad.) Do you have a particular spiritual practice or belief system? How do you keep yourself so kind and grounded?
I'm most influenced by zen ideas and perspective but I do like to read spiritual, scientific and philosophical books from various schools of thought. My personal spiritual practice at the moment involves meditation, yoga, contemplation, conversation and dream work, but I'm always open to evolving it.
8. The music is so tiny and sparkly and excellent. Who did it?
It's by the volume settings folder, an Italian musician who makes lovely ambient soundscape music. That's all I know, really. I'm hoping to collaborate with him in the future, if it is possible. 
9. How did this get out? I notice the motoring videos have many more views than your other work. I got it from a friend in Chicago.
Just word of mouth and people sharing it online. I didn't promote it in any special way, apart from posting the video to my social media. I think it was shared a lot initially amongst Londoners and ex-Londoners who enjoy seeing their local area in a different way, but now I'm seeing it go further afield more and that's amazing. 
10. What made you want to do this particular series? Do you have a specific goal in mind?
Mainly just to create the vision I have in my mind. I enjoy the process. My specific goal at the moment is just to make another good episode. If it can have other positive outcomes, such as helping people be calmer on the streets or making people laugh, then that is just a blessing on top.
11. Are there rappers you rate right now? Are there people in London we should know about?
Off the top of my head I've been listening to The Doppelgangaz lately—they have a great turn of phrase in a lot of their lyrics. As for Londoners, I like a lot of grime artists: President T, JME, and D Double E, amongst others. And, of course, the OG South Londoners that are Pete & Bas. As for the UK Hip hop scene, I've been listening to the new Ramson Badbonez music on High Focus Records. They certainly put out a lot of stuff worth checking out (along with Inner Peace Records, of course).
12. Are there any antecedents for the videos? A lot of things came to mind: Bob Ross, John Berger, The Mighty Boosh, Marcel the Shell, Mike Skinner, ASMR, Daniel Craig.
Daniel Craig as in James Bond? Why not, yeah. I'll have to look up John Berger and Marcel the Shell. I think I was mainly influenced by the relaxing videos I watch on YouTube, like mudlarkers talking about their finds or nature ramblers or ASMR-type content, and wanted to mix that concept with driving and a bit of comedy. Although it's a bit different, I am a big fan of High Maintenance and the ways it uses subtle humor and tells interesting, interweaving stories without becoming too attached to them.
13. I just want to know more about you and how you see your life and your role. Is Ogmios a Greek name?
Ogmios was the Celtic god of eloquence, so it seemed a perfect aspirational name for a rapper/poet. He was also described as a bald god which made me identify with him even more. I see my role as trying to constantly improve my craft and eloquence in a quest to become Ogmios. I'm hoping to fully actualize into Ogmios in my fifties or sixties. I would at least like to be running a decent mid-sized cult by then. I wouldn't make the usual cult leader mistakes, I don't think.
14. Do you ever come to New York?
I have never been to New York. I would love to one day. 
---
---