Discover more from S/FJ
photographs enthusiasms essays speculation interviews conjecture
Over 13,000 subscribers
Restoration Hardware
Hua Hsu takes us back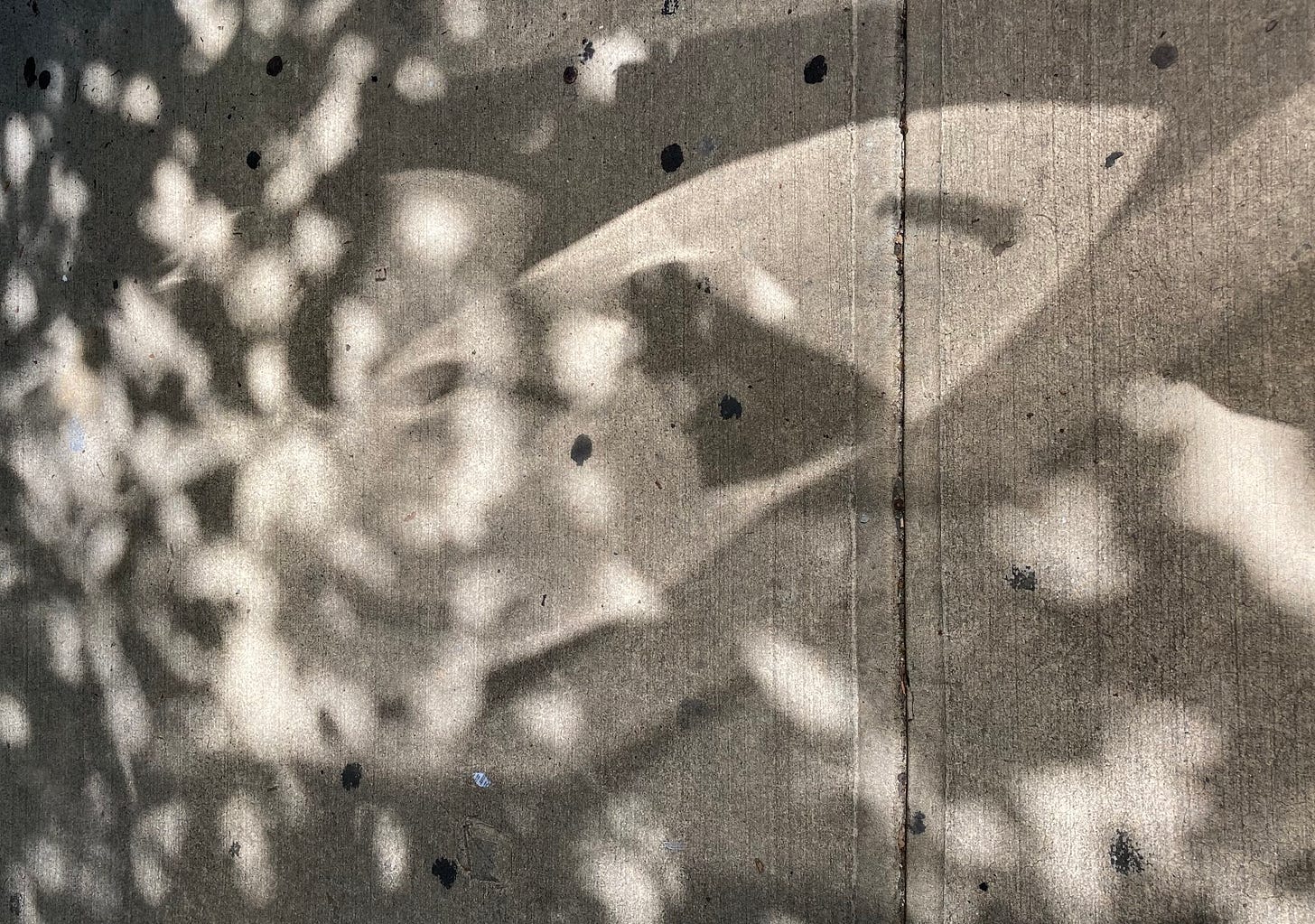 Hua Hsu has the range. This is his story.
---
i saw a four foot high stack of RH catalogs nobody asked for in an apartment lobby and decided to start an IG of RH catalogs decaying in the wild. they are so lavishly produced and comically massive. at a certain time of year they seem to be everywhere. RH isn't on social media so i got @restoration.hardware. then i forgot about it for a couple years.
i can't remember. maybe 2016? i think the catalogs are slimmer and less ubiquitous than they were when this all started.
one day i remembered and went to the account and it had like 11k followers, even though i had never posted anything.
when i got a catalog one year i posted a picture of it with the eyeballs emoji. people were into it.
initially i thought i would run it like a proper account and gradually bring political stuff into it. or saturate it with normal brand posts but then every now and then have a post that was slightly absurd. like a "from the archives" look at old RH catalogs where we actually started off as a zine.
so every now and then if i was waiting in line or waiting to fall asleep i'd go and actually "maintain" the account. always only in stories. encouraging people on their design projects. saluting folks who ate at our restaurants. i think the main only ever had the catalog post, a new years post (#stringlights) and a post honoring brian mcknight who once tagged us (he's a fan of the cloud sofa).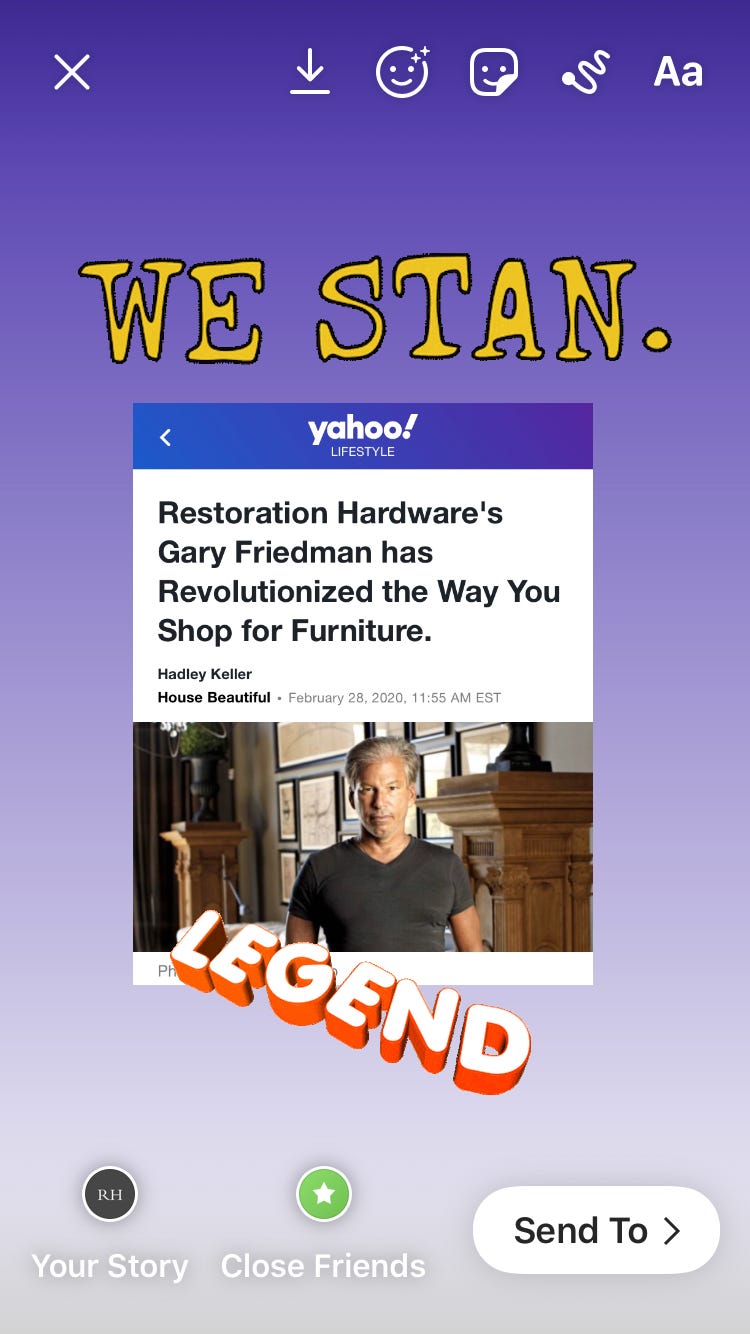 so i followed brian mcknight and liked all his posts. i don't think he ever followed back. we did get to something like 30k? occasionally people would dm or comment on a years-old post about how bad the socials team was, or how to get off the mailing list because they didn't want these huge catalogs arriving.
we got tagged a lot and every now and then when i was really bored i would go through and like those posts. i was basically accidentally running an RH fan account. there was one risqué photo set that took place on one of our tufted couches which i did not like because it would have looked bad. which was wild because i had somehow internalized a sense of the brand's identity.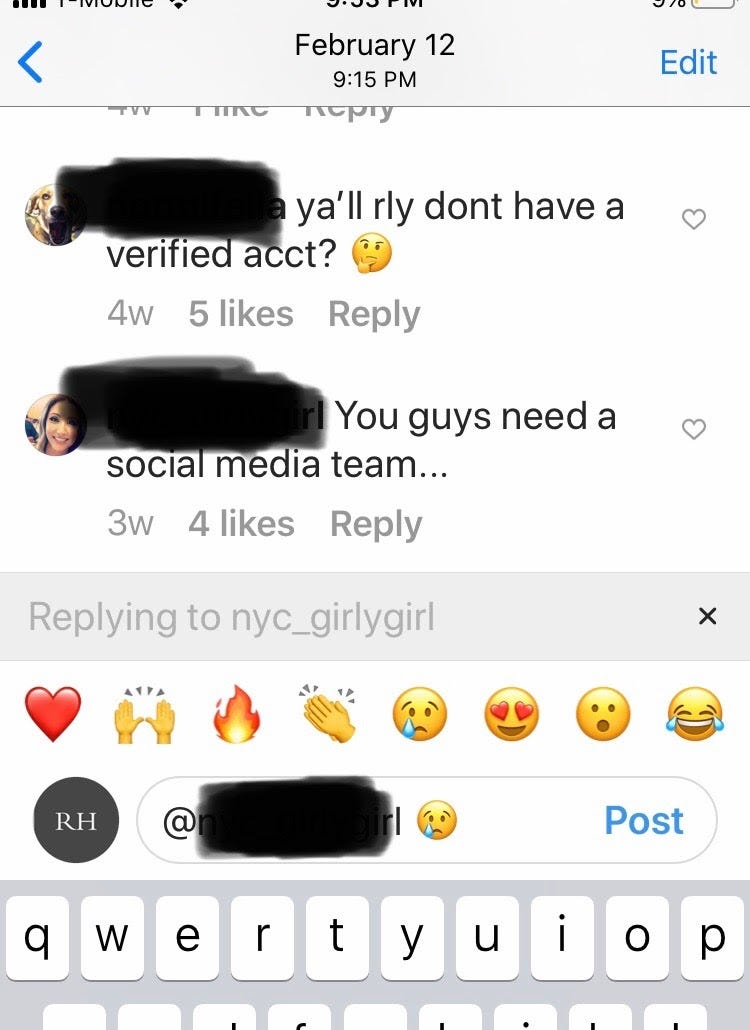 i never wrote people back or did any customer service stuff, even when people got mad at me bc RH had found a loophole to stay open as "essential" during the early days of COVID. people would write for discounts or collabs or to ask about discontinued items they loved. i just reposted stuff. one time someone tagged us because they were stuck in an RH bathroom (in a funny way) and needed help (not desperately or anything) but i didn't see it for three weeks by which time they were probably fine.
i keep saying we. i never actually pivoted to RH x Antifa because, first, i'm now locked out of it (the trademark cops came for me). but second i just spent way too much time (but not THAT much time—i only went in every now and then, though i did learn how to set a google alert just to keep tabs on the company) looking at and liking random home improvement projects and celebratory brunches. i didn't really feel a fondness for the brand or anything but i was like, well these are just people who are deeply into something i'm not, who have mistakenly ended up here (even tho true RH heads know the company doesn't use social media). it reminds me of something our founder gary friedman is fond of saying: "LEADERS HAVE TO BE COMFORTABLE MAKING OTHERS UNCOMFORTABLE." if that's the case then i'm no leader. i'm just like you.
---
---
We're glad to be back but broke as ever. Subscribe if you can, and stick around if you can't. There will never be a paywall. Here's how the money works.
---
---