Discover more from S/FJ
photographs enthusiasms essays speculation interviews conjecture
Over 13,000 subscribers
Robyn + Brenda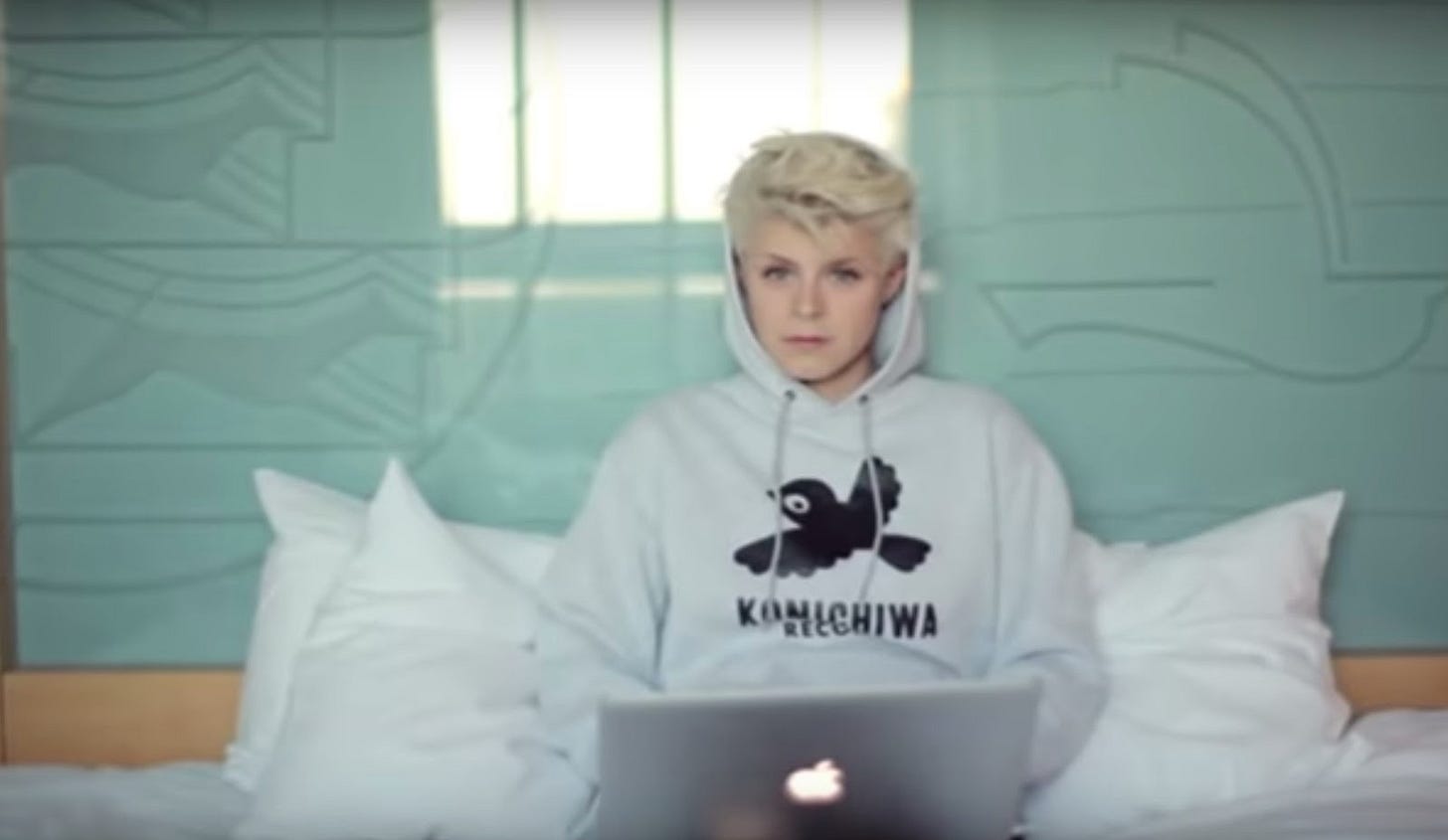 The phrase I settled on was "club dancing." I don't think other people say it but I haven't checked. For a long time, club dancing was my favorite way to get exercise and meet people and hear songs played at really high volume. In 1986, I fell in love with a woman named Brenda and this is what we did, as often as we could. Before we dated, I hadn't spoken to Brenda more than once. We ended up at a party and instead of talking, we danced in front of a fireplace for hours. We were together for almost three years. We went to clubs in Manhattan like Madam Rosa and Hotel Amazon. When she fell in love with a woman named Julissa, I fell in love with a woman named Deborah, and that was that. We only see each other when someone dies, mostly on her side.
Club dancing was my early faith. It was frustrating, though. It has no entirely fixed place. You have steps, and moves, but they're not arranged in any order. It's not choreography and it's not undisciplined nonsense, either. You can see it shows like Soul Train, though it really happens later in the century than that. If two people are club dancing, they are dancing independently at each other. It feels like a specific historical formation, familiar to people who are now between 30 and 60.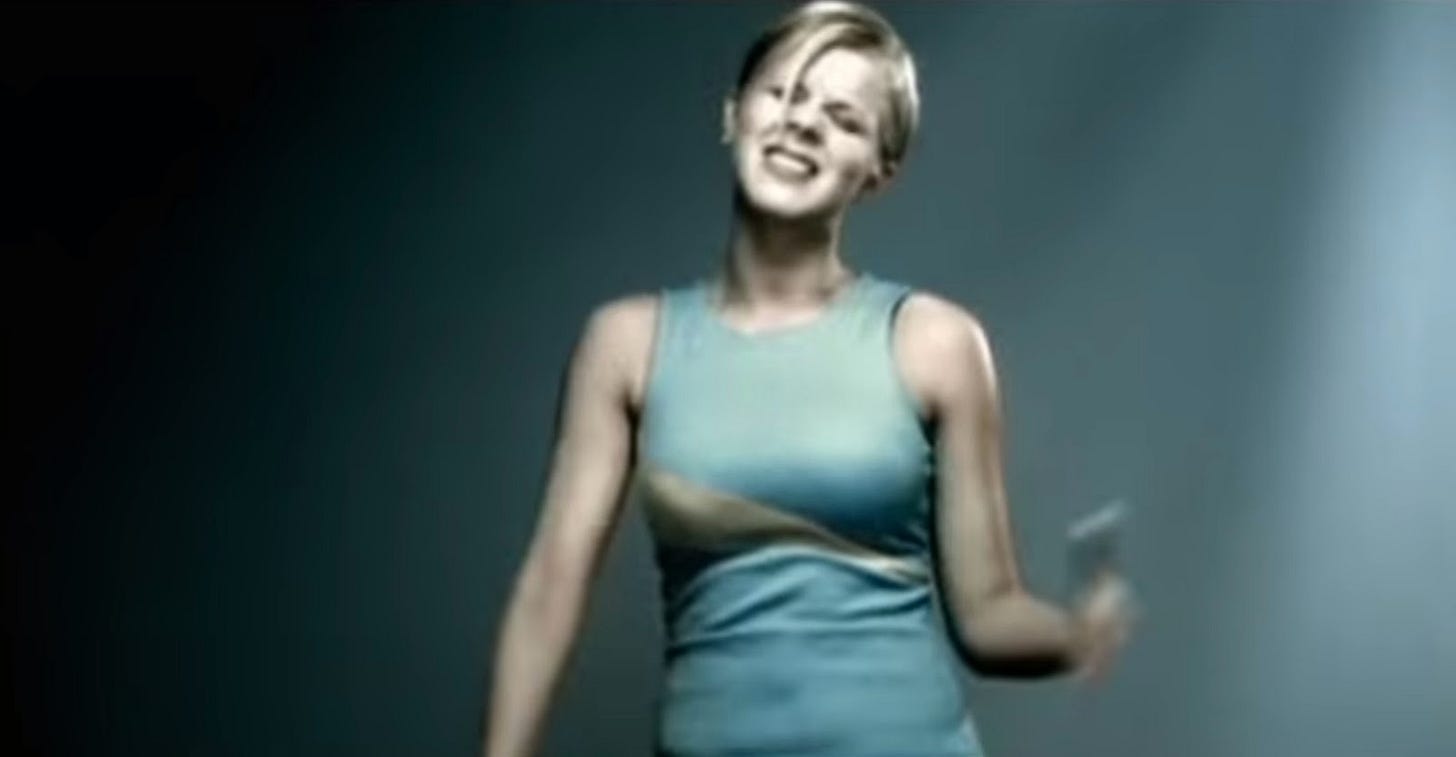 Brenda is not someone I think of lightly. She was close to my center and we didn't do anything wrong other than be young and think we had to get married. (We didn't.) Watching Robyn at Barclays Center a month ago, I thought of Brenda. I didn't feel uncontrolled surges of raw sentiment. I felt warm, familiar and cared for, held in a strong and calibrated middle.
It's taken me twenty years, and Robyn, too. She is our priestess of club dancing, the one who can channel the loss and triumph and emotional momentum at the center of Madonna's "Open Your Heart." She clears the space around her and finds the time to think of why she came to the club, where she falls in love, breaks up, stalks her ex, cries in the strobing light, and takes a call. Robyn had to move towards disco to find this floor.
For a kid who learned how to go out downtown in the eighties, Robyn hit a lot of bookmarks last year on Honey. She's borrowing from Lil Louis, Arthur Russell, Raze, and Black Box. It's like a double exposure, falling in love while falling in love.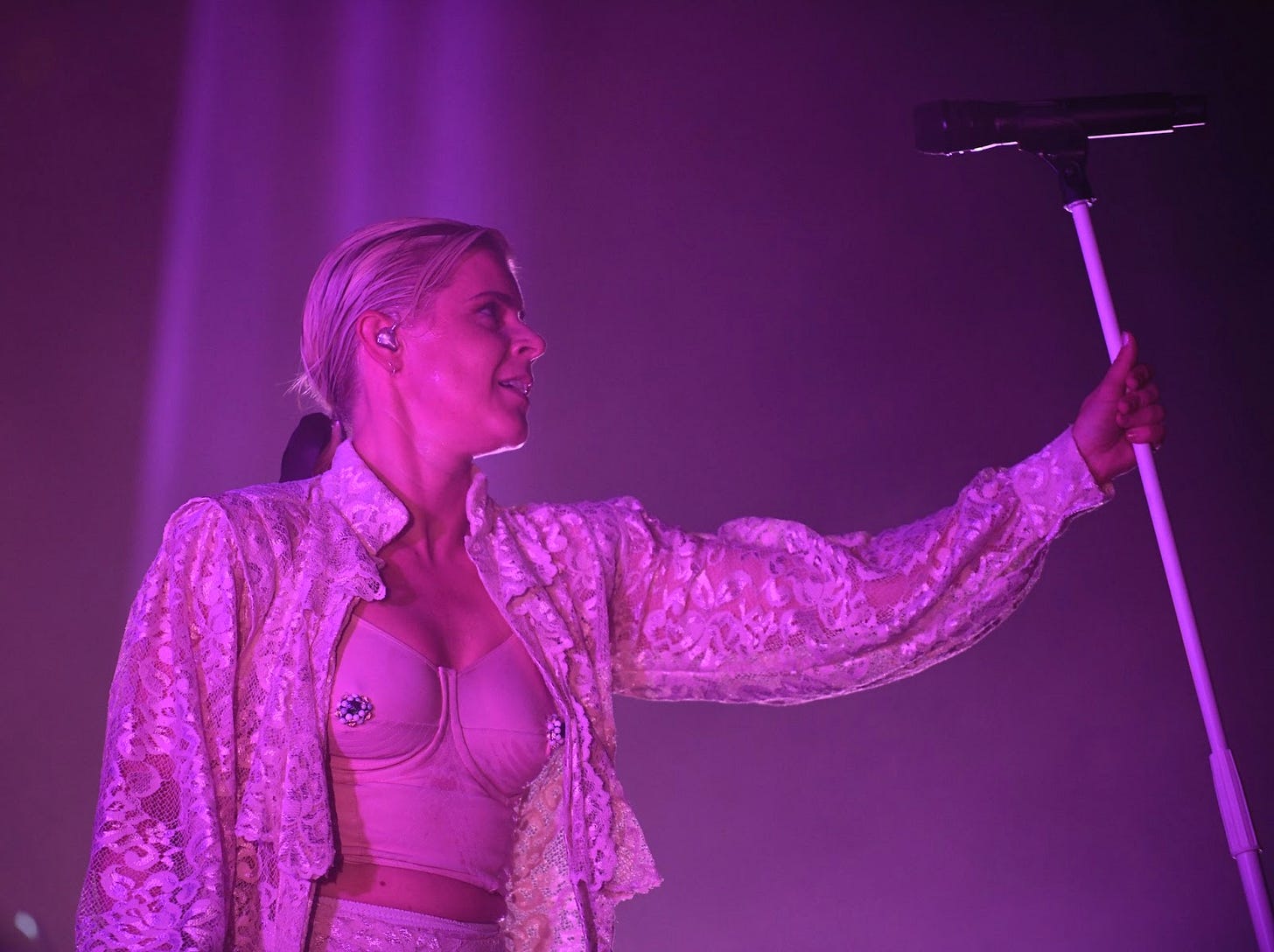 (Barclays Center, July 19, 2019. Photograph by Michael Noble Jr.)
Robyn is a cornball, a bizzer, a worker, a collaborator, a natural, an inspiration. I've grown up with Robyn. I moved, not from child to adult, but from one adult period to another. I got older, and she wrote that song.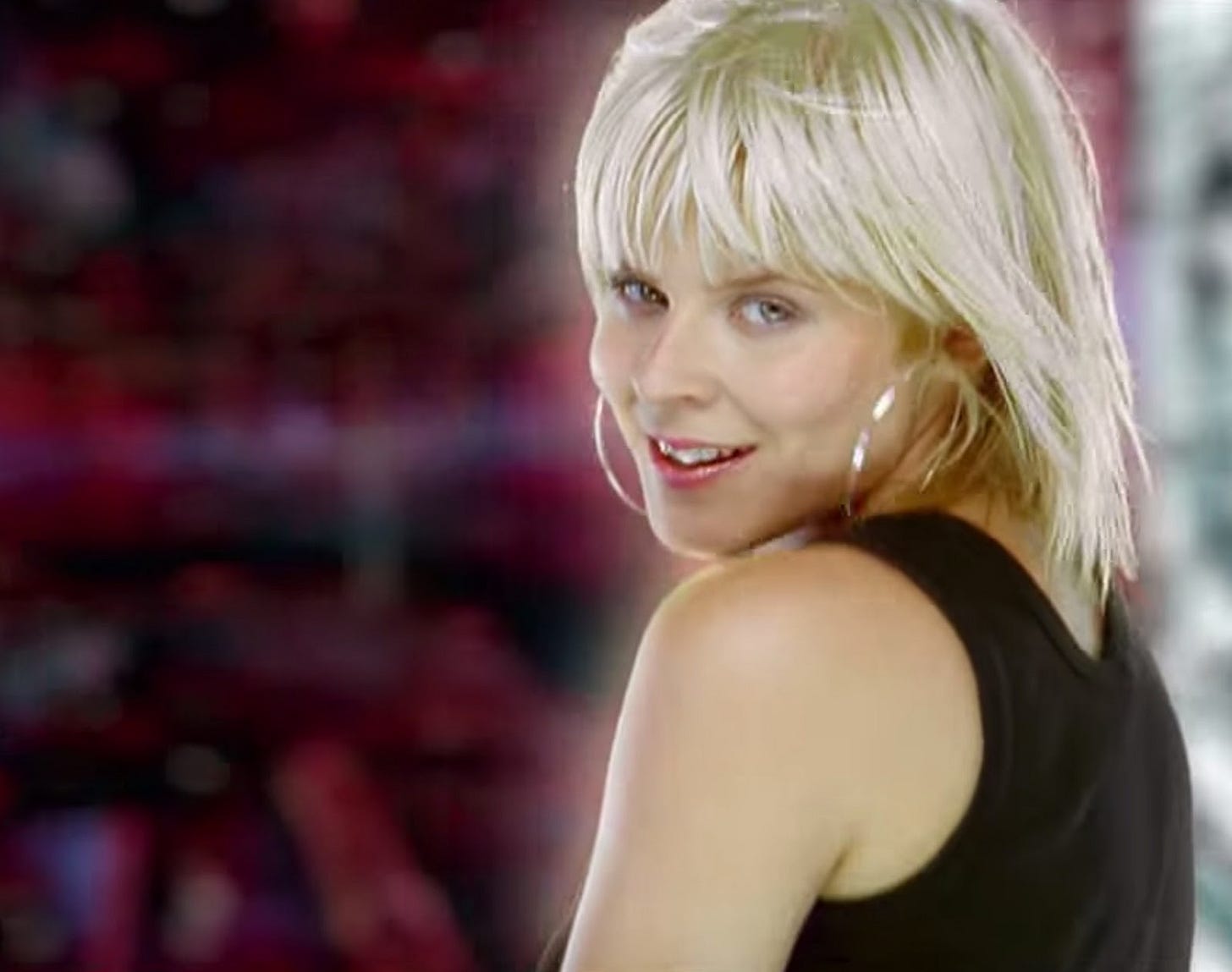 Robyn was a teenager when she started releasing records in 1995, chasing some kind of pop-R&B gig. Her debut single, "You've Got That Somethin'," was like a Swedish re-fit of Mary J. Blige. The first song on Robyn Is Here, "Bumpy Ride," was the European take on G-Funk that Mark Morrison nailed a few months later with "Return of the Mack." "Just Another Girlfriend" was a stab at Soul II Soul vibes. The dispersal range was set to Extra Wide: All R&B Styles. Robyn wasn't in the wrong spot—it was just the wrong dance for her.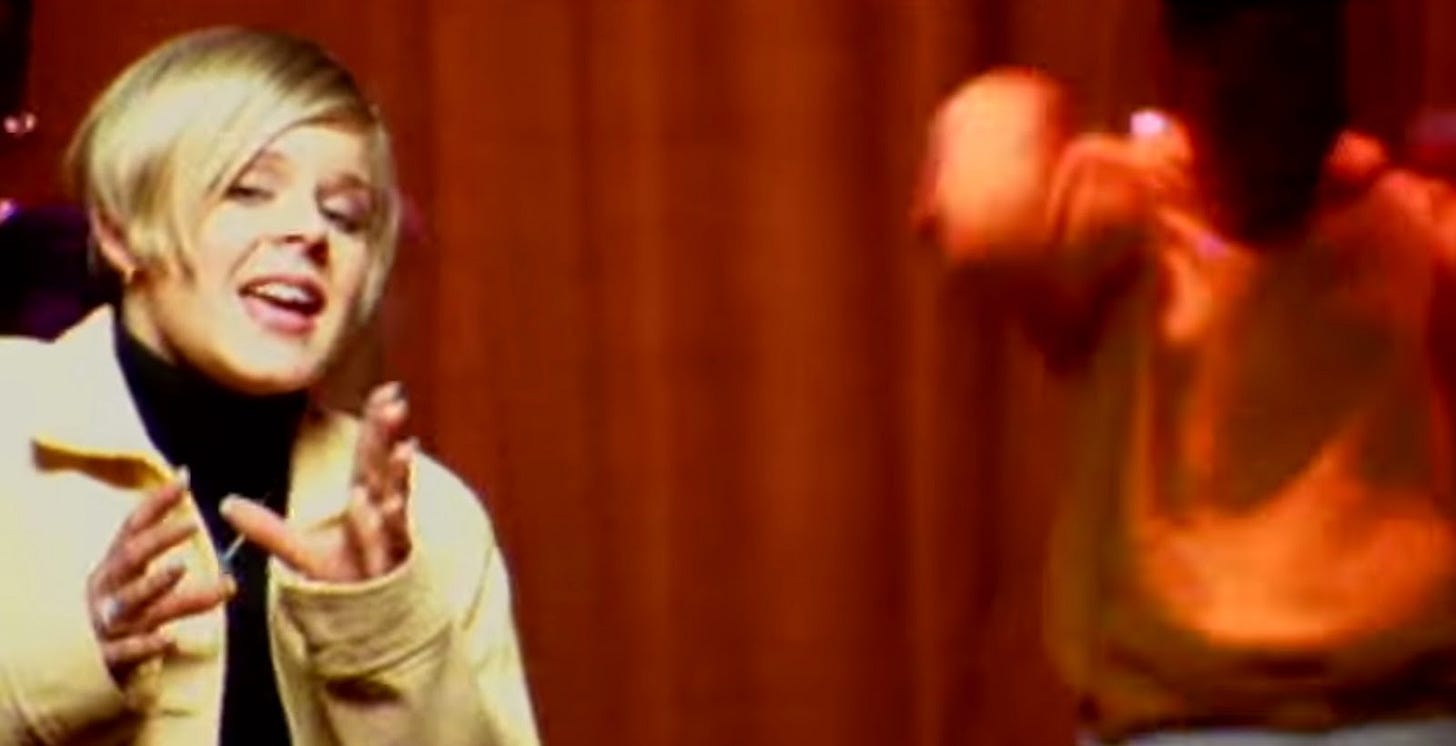 My Truth, the second album, was released in 1999. It's a holding pattern when it's not just awful. "My Only Reason," written with Billy Mann, splits the difference between the Everyman hooks of "Show Me Love" and a variant of unplugged R&B. It's not the worst? This might be, though—"Universal Woman," a song Robyn wrote by herself that sounds like an empowerment anthem from an unreleased James Bond film. The loss of a child in the song is not tied to an event, so adjust to your own politics. There are gestures towards a TLC model, which drive themselves harmlessly to the side. There are lots of acoustic guitars? It's hard to think of a reason to play this.
---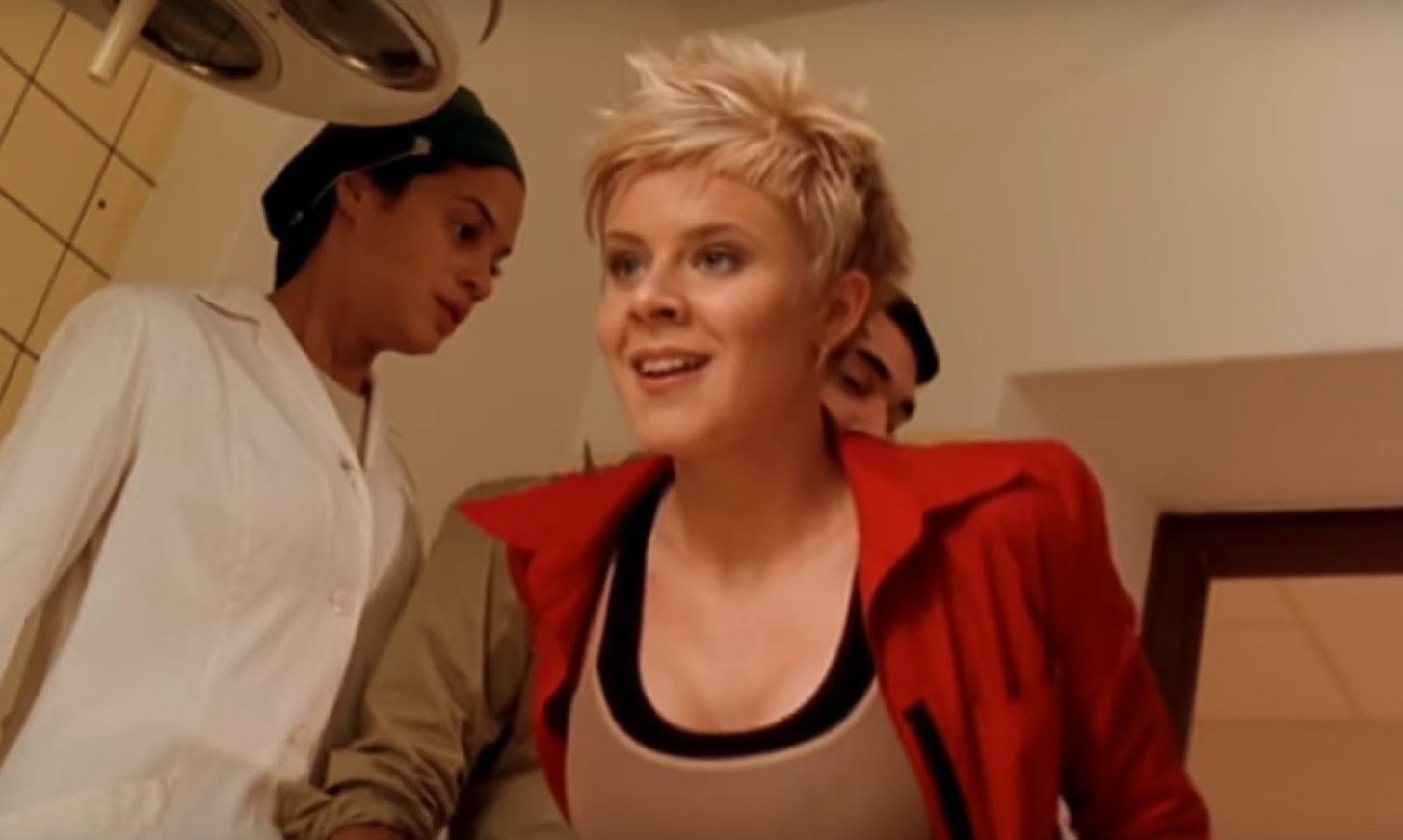 The lead single from her third album, Don't Stop The Music, was "Keep This Fire Burning." It's very Brandy, very 2002, and it works. (That video is worth it—don't deny yourself.) The title track goes, too.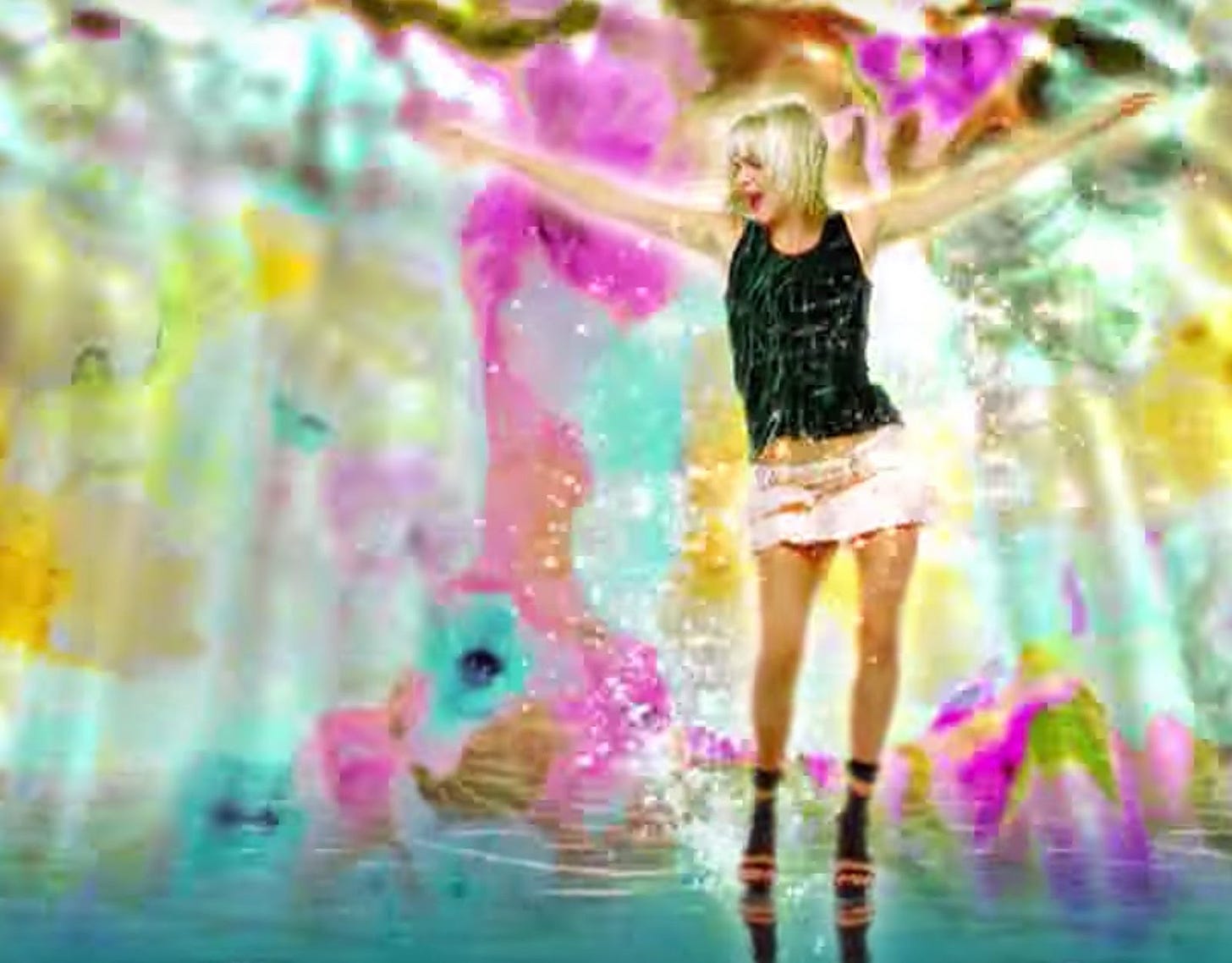 The Swedish Albums aren't entirely separate from the Konichiwa records. "Should Have Known" is on both Don't Stop The Music and Robyn. There is a reasonable theory that Robyn 2.0, the one you know and love, starts on Don't Stop The Music.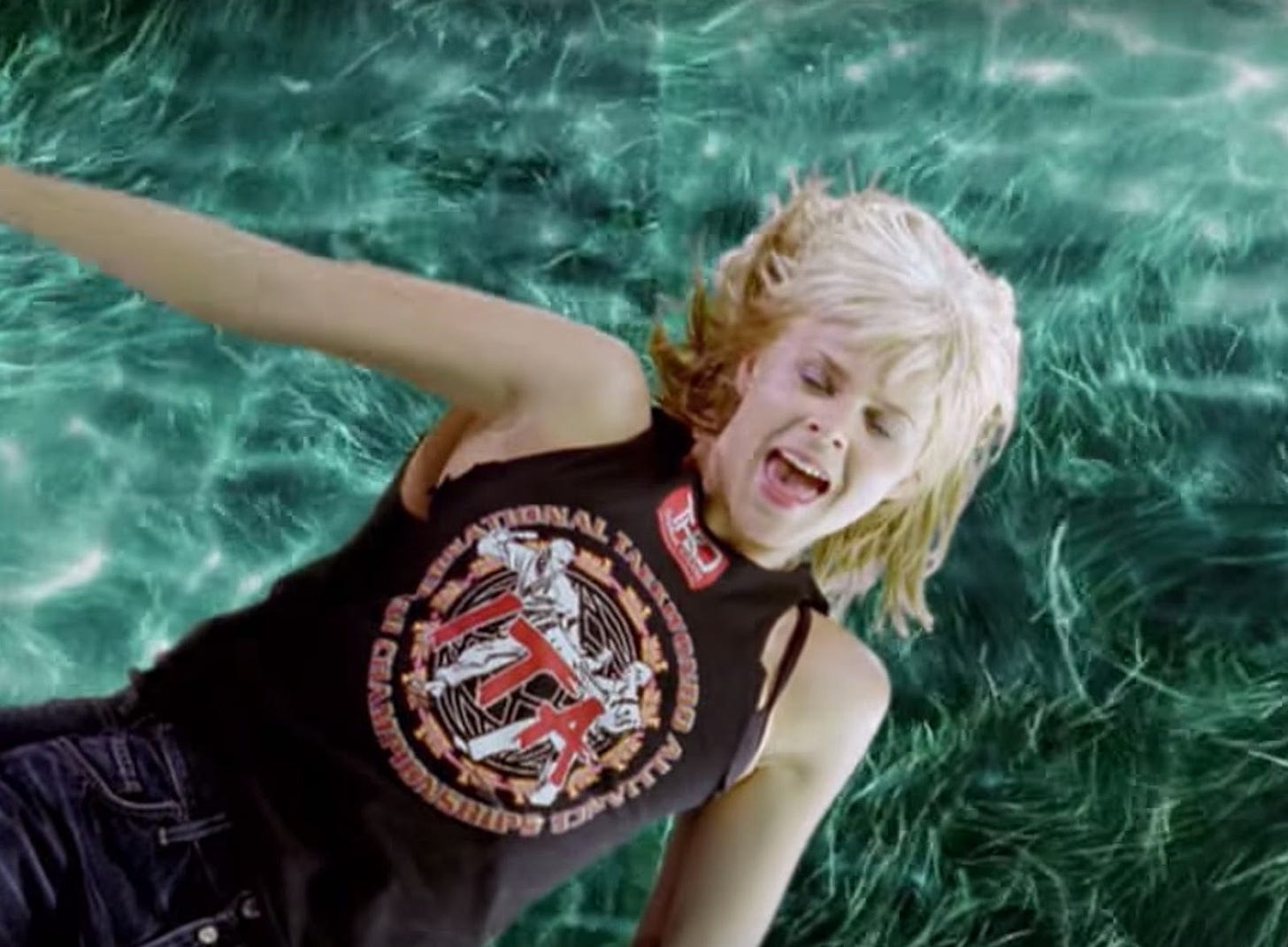 Things changed for real real when Robyn traded R&B for disco and started her own emotional club, the one where you get lost by dancing emotionally in the club. All of the soul and pop and R&B remained, as detailing. In 2005, she named her label after GZA's line from Chappelle's "Racial Draft" sketch. Probably wouldn't happen now.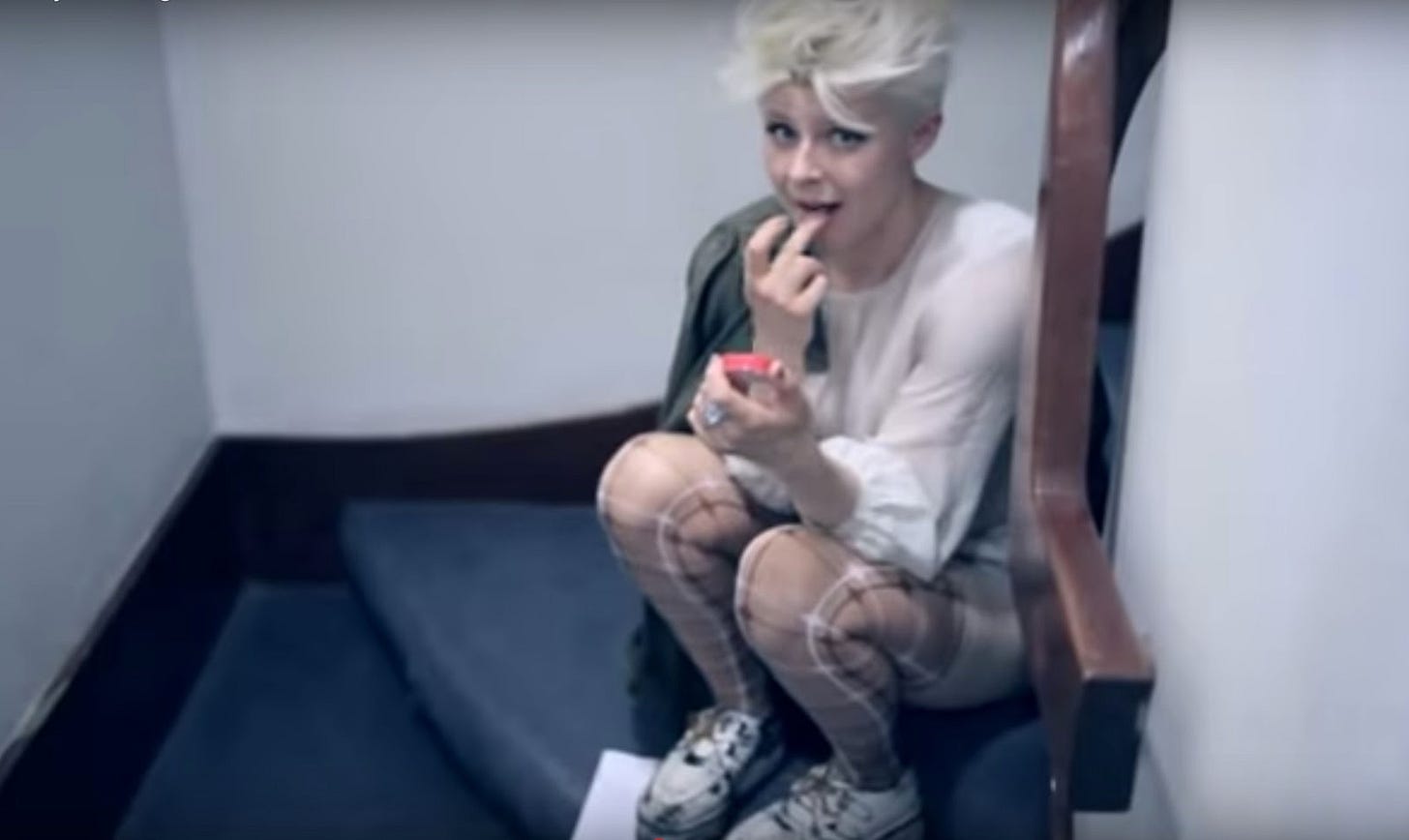 All the peppery android beats her friends gave her, all that "Fembot" kibble, that was something she used to power out beyond the Earth's orbit, to give her a little space, so she could come right back. It was going to be club music with its eyes open, always. She just needed to blend the machines up front for a minute, get cover, and then return to open up.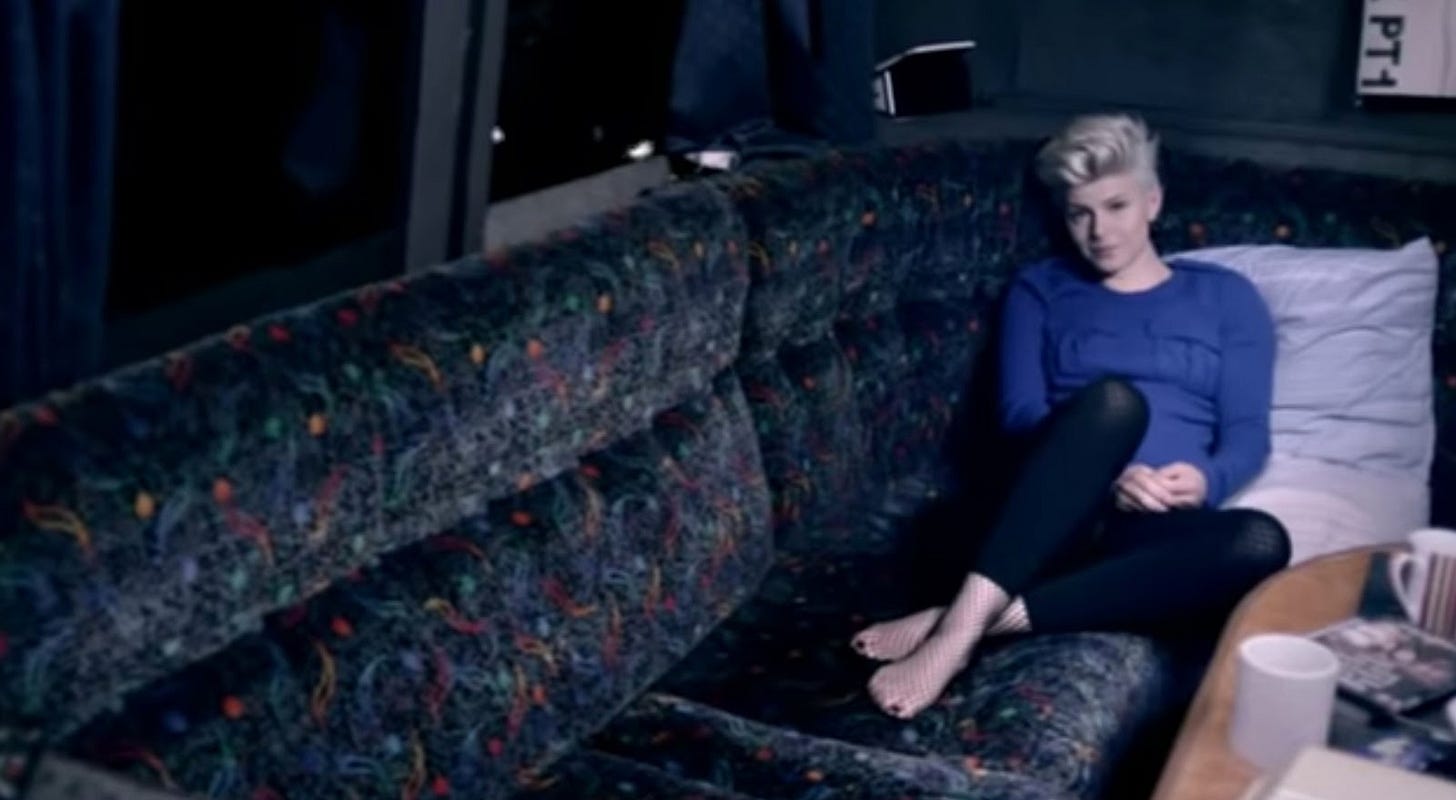 There are small teeth in the comeback material, in "Cobrastyle" and "Don't Fucking Tell Me What To Do." A point is being made: Robyn isn't a teen star anymore and is not going to be polite. So there. And this is awkward, because Robyn is not abrasive. This strategy rings false and she's more or less abandoned it. (These days, Robyn just uses "DFTMWTD" in concert as a segue.)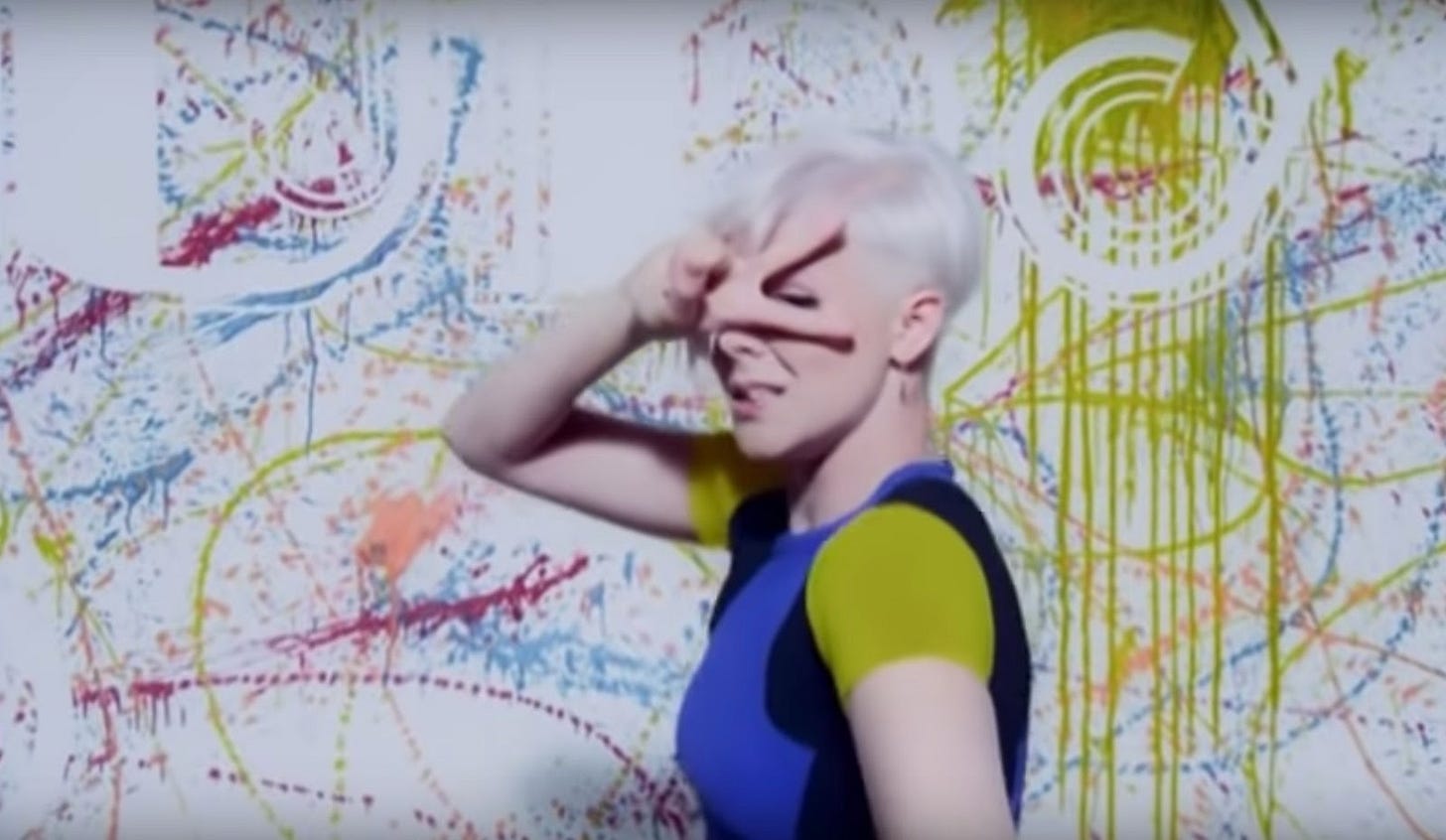 This is Robyn being interviewed and doing an unplugged version of "Dream On" in 2008, which makes a point that Robyn, after the Lost Pop years, can write or find better songs than Billy Mann can write, and she doesn't need any oonce oonce to do it. She wants the oonce, though. She just wants you to know what she can do.
And then we get The Song.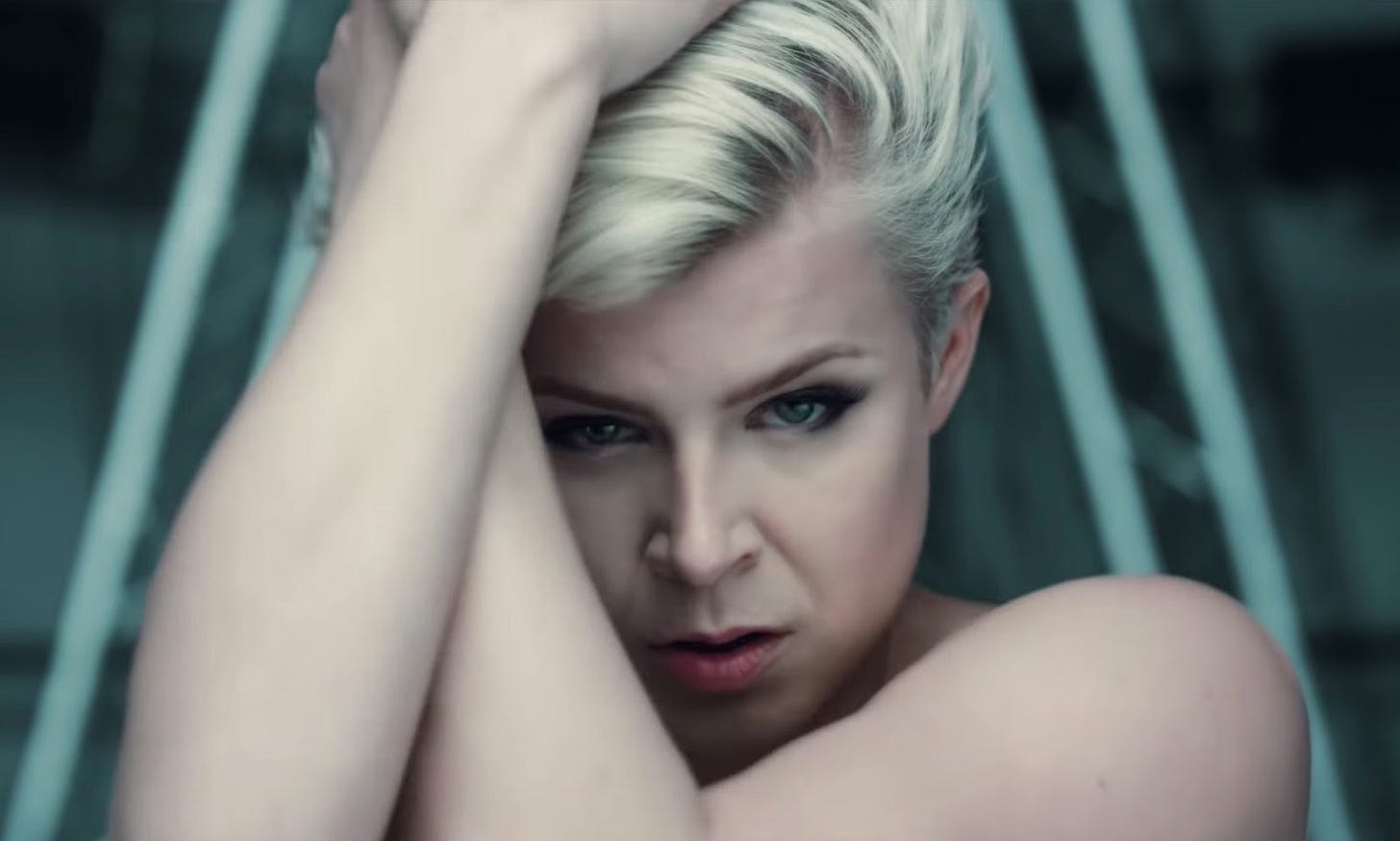 I love this version of "Dancing On Your Own" from Letterman, broadcast nine years to the day before the Barclays show. (Freaky.) So much happens in this one deep, small space. She's that one, your best friend,  you on your best night ever, your lifelong crush. The song is sad, mad, and wide, doing that Depeche Mode thing and dropping down into your gut before waving to the shore like a fool, I'm fine, I'm dead, I'm fine, I'm out of here, wait, one more song. The version she did in 2010 at the Nobel Peace Prize Concert is pretty good, too. And this song is where we first see the Robyn Snake, her personal dance, where she swings her arms and hips in opposite directions and looks like the balloon guy outside the car dealership .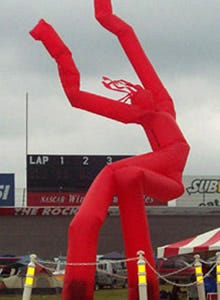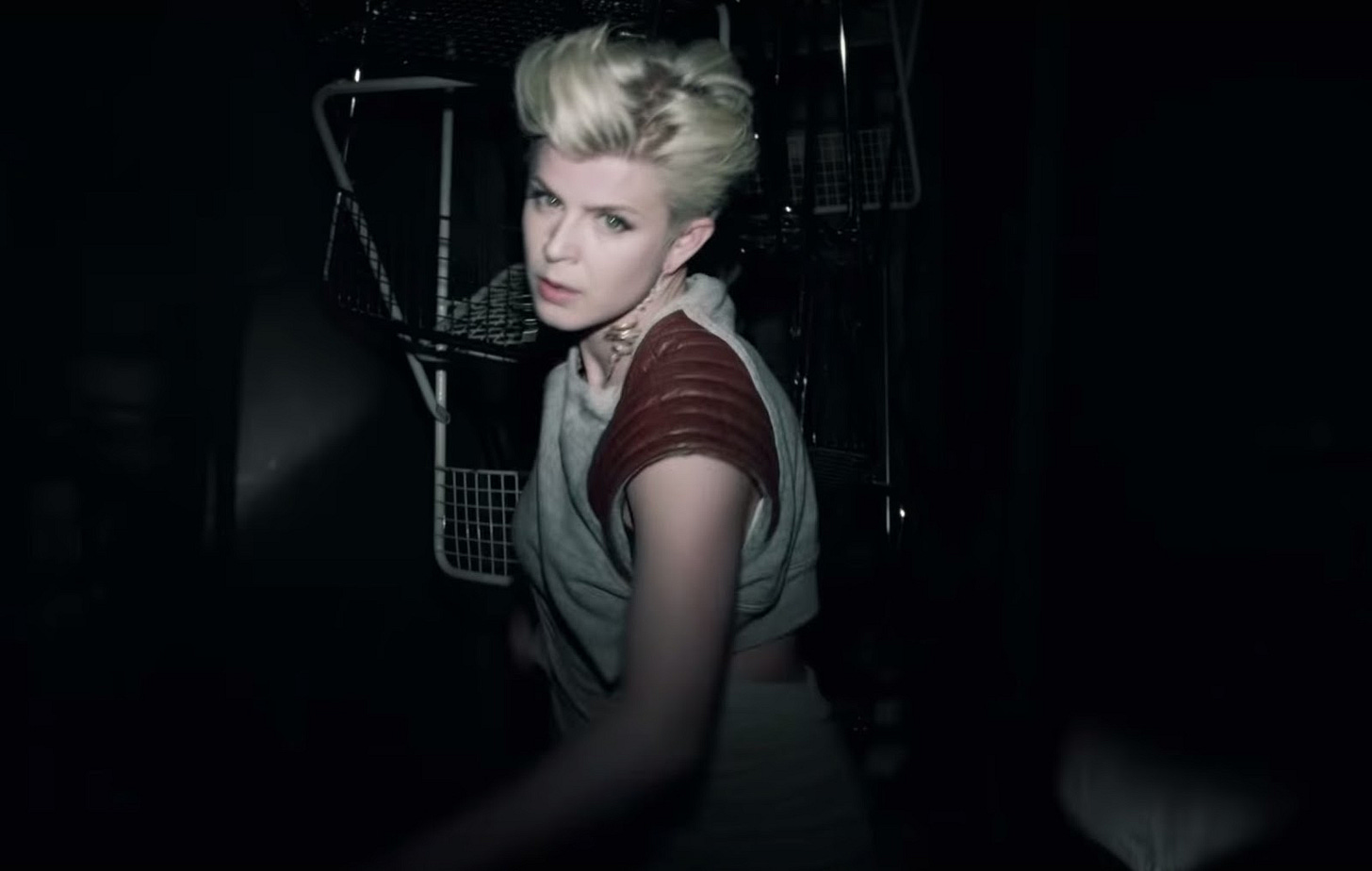 Holy shit, this Calum Scott cover of "Dancing On My Own" is bad. I did not know about that. Did you? You can't really prepare for it. Maybe wait? Except it has almost 400 million views and people in pain love it. Ach. I feel like an awful person now.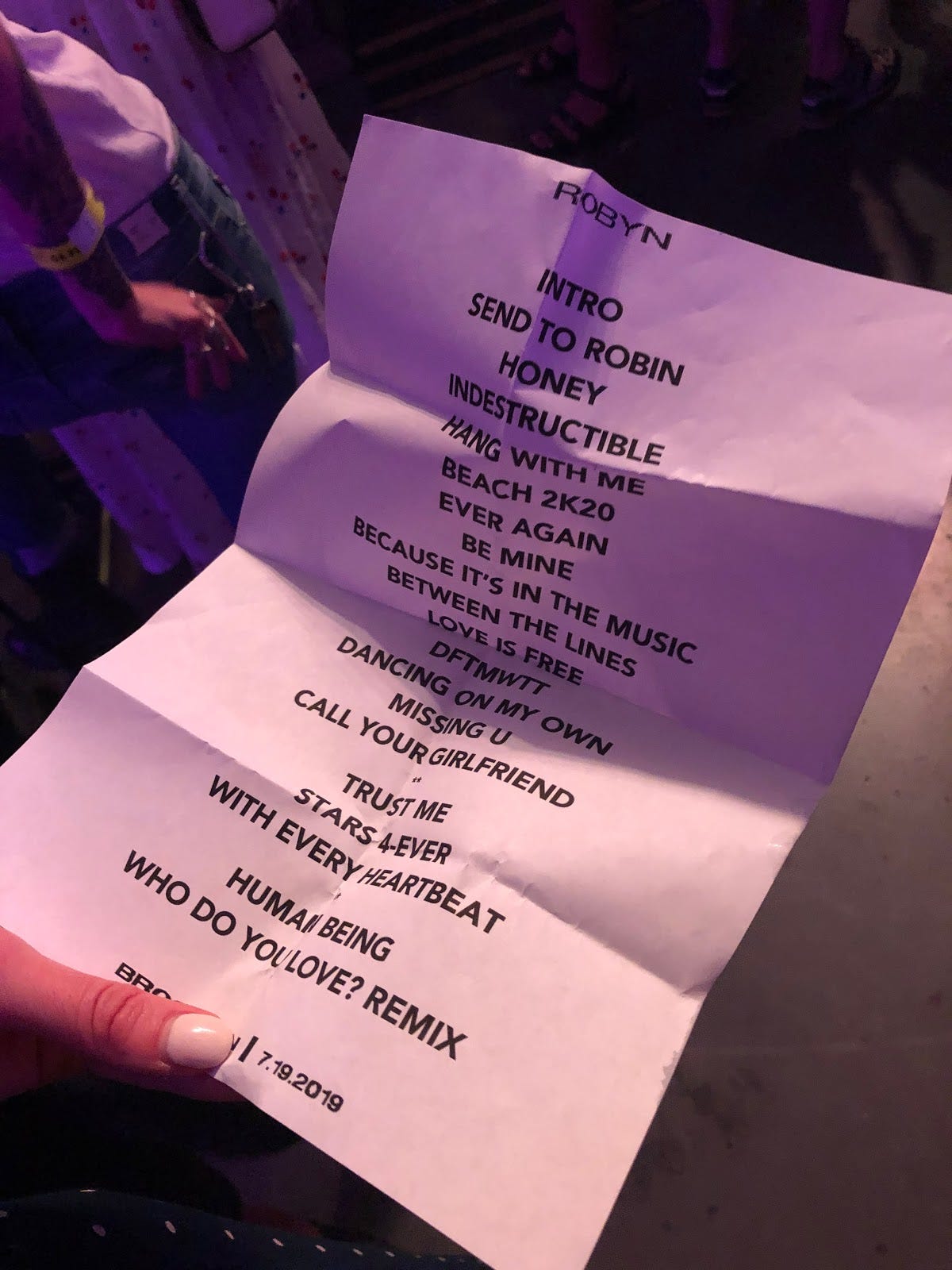 The Honey tour is built on top of her softest, least obvious album. I couldn't figure out what was going on until I saw the show. It's not the pain of dancing, but dancing as home, the first album where Robyn has given up on all the commuting and just lives in the club.
Her stage set at Barclays Center might have been the studio moodboard: enormous mannequin hands, pendant sheets of white gauze, ivory glaze and Lucite accents. Two hours of this had me seeing a high school band lip syncing the Graffiti Bridge soundtrack in an abandoned Macy's. The mood is a key to what runs through Honey, which is a mildly denatured compilation of eighties and nineties house. "Love Is Free"—not on the album but part of the tour—sounds like somebody looped Raze's "Break 4 Love" and freestlyed over it. Festive but not really great and, more to the point, just a hipper recombination of sources than her nineties albums. Now she covers Arthur Russell, which I love, and samples "French Kiss" on "Send To Robin Immediately" (which also uses the Rossini violin run from "Still Tippin'").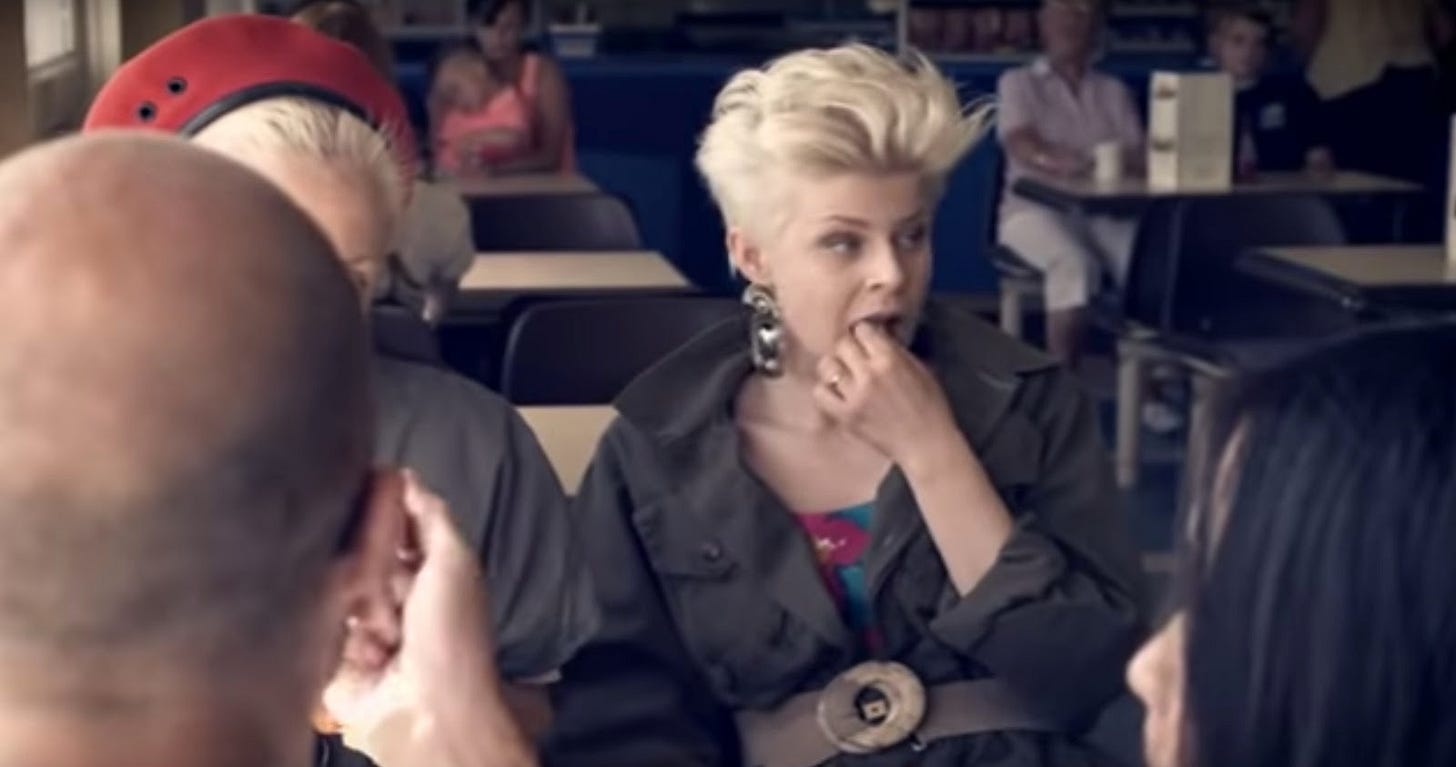 Honey has the kind of clarity you get on later Sonic Youth records like Washing Machine or A Thousand Leaves. It just doesn't find its focus in hooks or song songs.
The person I saw at Barclays was focused. Robyn's dancing default is slower now, and it all burned slow, with fewer peaks. This "Between The Lines/Love Is Free" medley taped for Fallon the day before Barclays is a good snapshot of the show. As on the big stages, she is joined by dancer Thomas Chatham-Spence and the Bronx's own Maluca, the best singer Diplo ever signed.  
---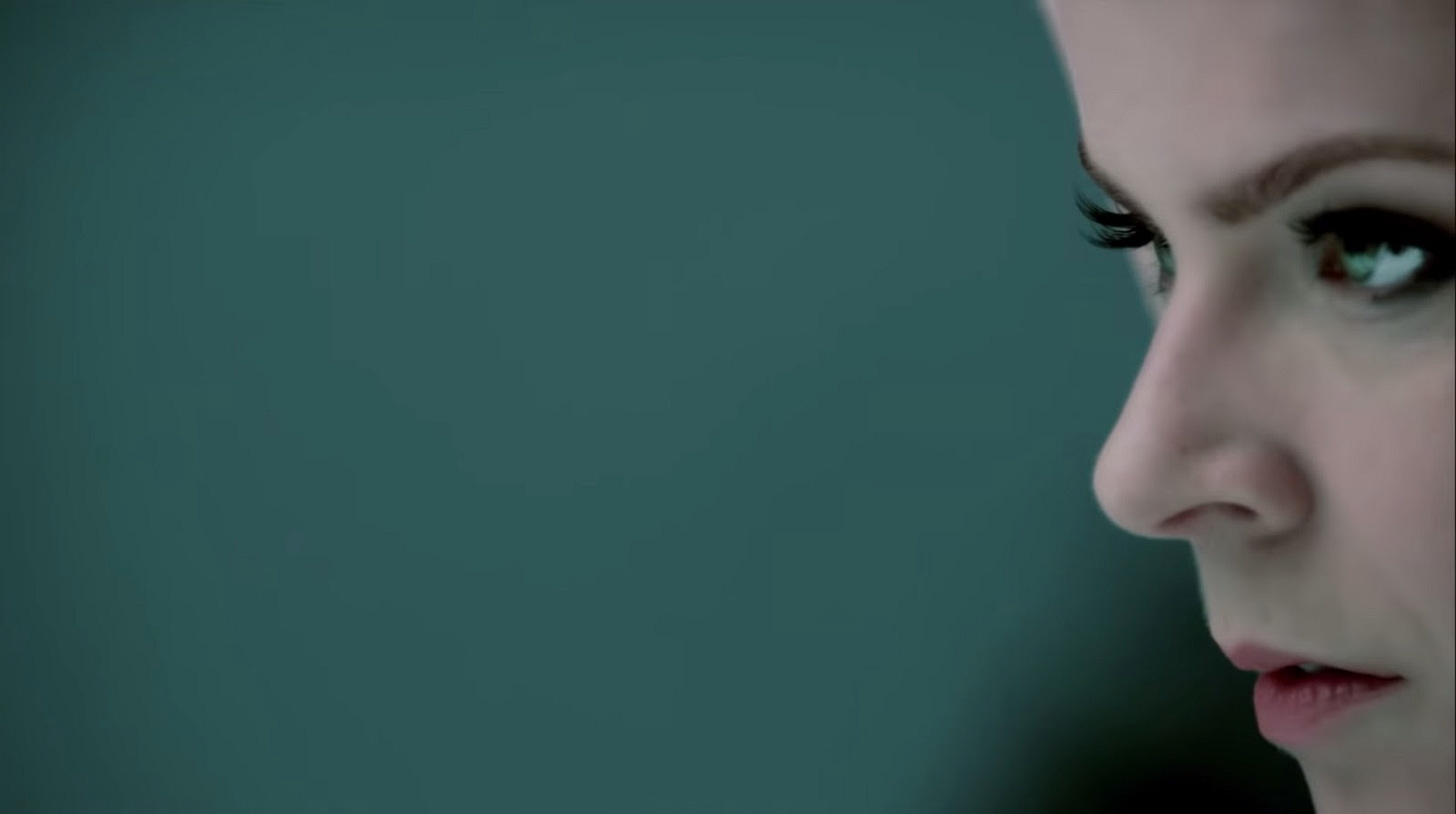 In 2010, I went to Stockholm to interview Björk on stage in a theater, the day before she was awarded the Polar Prize. There were so many bouquets of flowers in the theater that it smelled like an unrefrigerated florist's. Björk told me that Iceland was for boots, London was for trainers, and New York was for heels. That's all I remember from our interview. That night, the King of Sweden hosted a big dinner for Björk, attended by a zillion fancy people. I was told by someone there that if the King of Sweden remained seated, I, too, had to remain seated.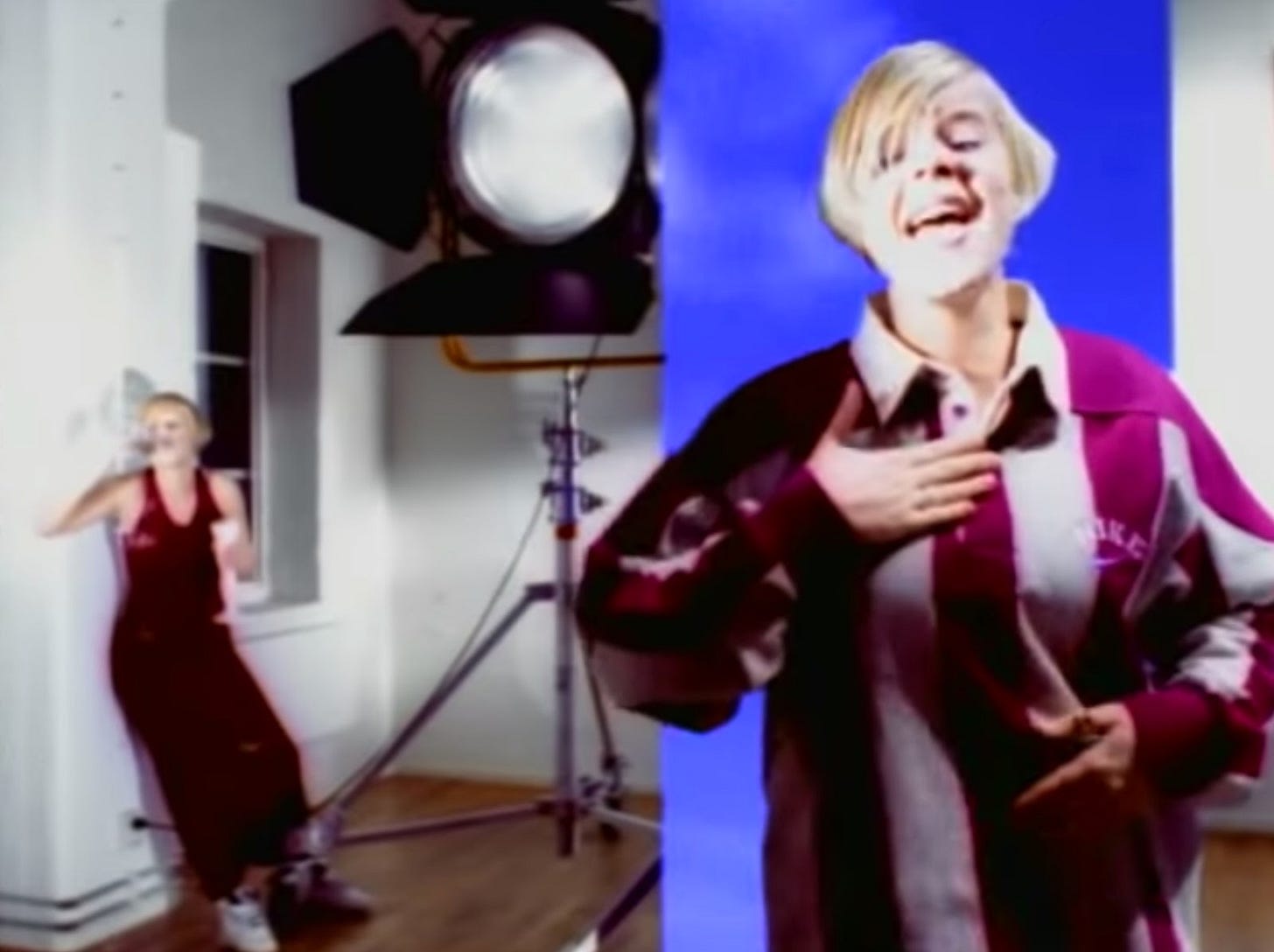 The dinner was about five hours long and the food was doled out in fourteen individual courses. I was seated next to a billionaire who was trying to fund an opera about the Holocaust which either did or didn't yet involve Steve Reich. After nine hours, I stood up to stretch. Of all people, Robyn came towards me wearing platform sneakers. She thanked me for writing about her, and I said something half in English and half in—you have no idea how bad the next part is—French. Yup. Your high school cafeteria nightmare, and it gets both better and worse. I am still trying to recover from "Thank you, beaucoup, no, vraiment" when who saunters up but Björke. OK, actually kill me. I turn and before I can say something in Tagalog, these two cream-colored bots glide in and say "The King is seated—wrap it up." 
That was a good fifteen seconds. I haven't seen her since.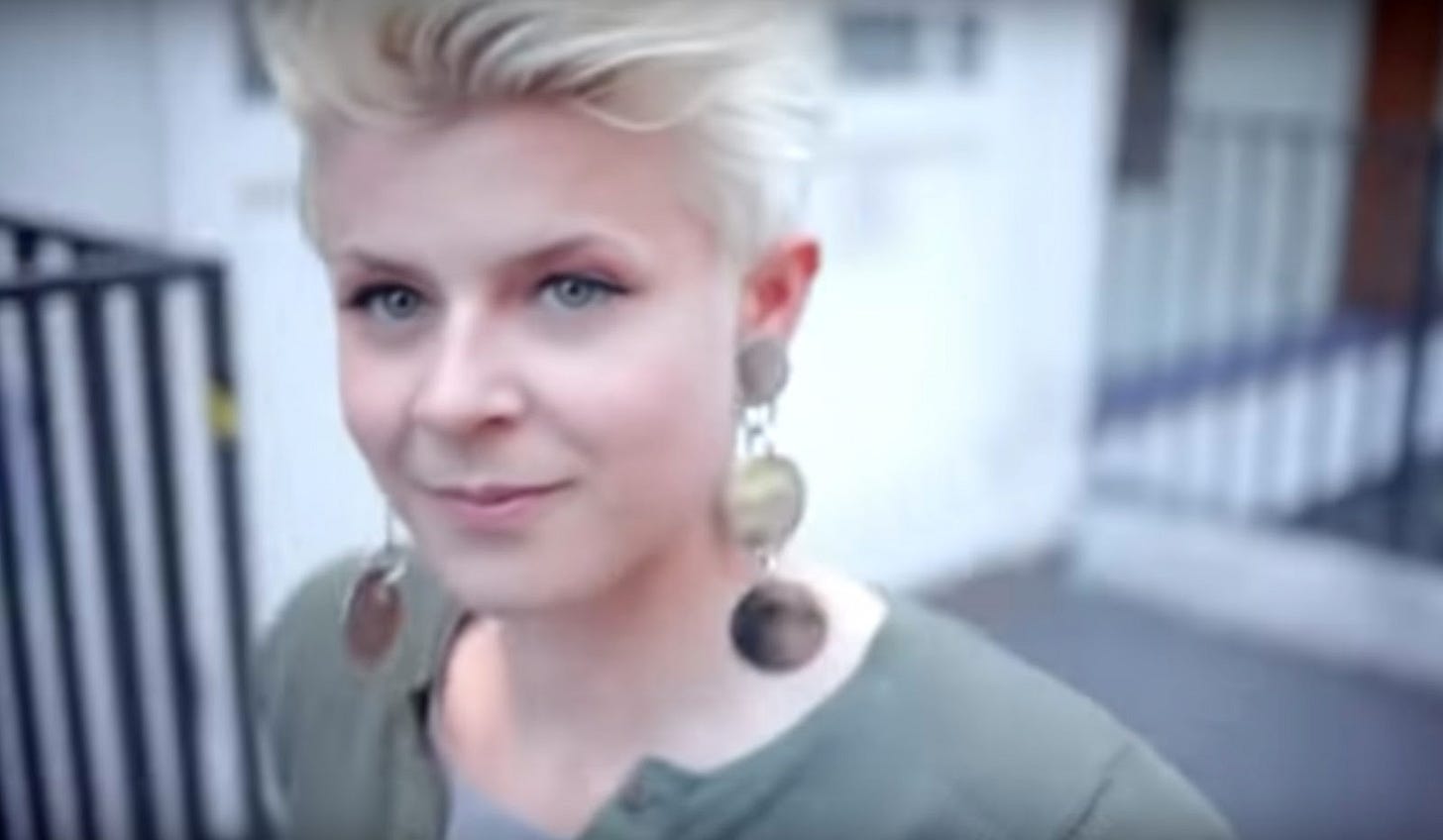 In the eleven years I wrote for The New Yorker, I mentioned Robyn fifteen times. 
---